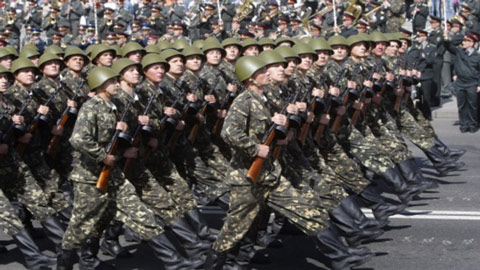 Ukraine has now stationed well over 100,000 troops and large quantities of hardware in the war-torn Donbass region, the Russian Foreign Ministry alleged on Wednesday morning. Tensions are rising rapidly between Russia and Ukraine as they seem to be on the brink of war once again.
Speaking at a briefing on Wednesday, diplomatic spokeswoman Maria Zakharova claimed that "the Armed Forces of Ukraine are increasing [their] military force, pulling heavy equipment and personnel."

"According to some reports, the number of troops… in the conflict zone already reaches 125,000 people, and this, if anyone does not know, is half of the entire composition of the Armed Forces of Ukraine," she said. –RT
At the end of November, the head of Ukraine's military intelligence service, Kirill Budanov, said advanced US-made Javelin systems had been tested by Kiev's troops and had been deployed to Donbass. A few hours later, Russian Foreign Minister Sergey Lavrov stated that it was a concerning development that increased the prospect of a full-blown conflict in the region. "In recent weeks, we have seen a stream of consciousness from the Ukrainian leadership – especially when it comes to the military – that is excessively inflamed and dangerous," he said, according to RT. 
The Kremlin also warned it could blow up 32 GPS satellites with its new anti-satellite technology, ASAT, which it tested Nov. 15 on a retired Soviet Tselina-D satellite, according to numerous news reports. "Russia has demonstrated a deliberate disregard for the security, safety, stability, and long-term sustainability of the space domain for all nations," Gen. James Dickinson, commander of U.S. Space Command, said. "Russia's tests of direct-ascent anti-satellite weapons clearly demonstrate that Russia continues to pursue counter space weapon systems that undermine strategic stability and pose a threat to all nations."
As of right now, this is all amounting to rhetoric, however, it could become something bigger at any time.  That doesn't mean war will break out, but we need to watch this and be aware that something could come of it.