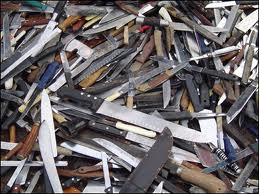 A video has emerged of a gun control advocate at a Second Amendment rally in Philadelphia arguing that not only guns but knives, nails, forks and anything with a sharp edge should be banned and that the government should develop new kitchen utensils that are unable to harm people in order to keep everybody safe.
The video, published by Story Leak's Anthony Gucciardi, is a shocking illustration of how vehemently many Americans support the nanny state.
After arguing that countries like England, Holland and Australia are safer because everybody is disarmed (violent crime is actually far higher), the individual makes it clear that he wants to ban all guns, including hunting rifles.
He then erroneously inflates the number of gun-related deaths in America by four times, falsely stating that the figure is 40,000 when in fact it is under 10,000 a year according to the FBI's statistics, which the gun control fanatic refuses to believe. Gucciardi also adds that many of these gun deaths occur in gun control capitals like Chicago, where lawful citizens cannot own guns to defend themselves.
Gucciardi points out that 900,000 plus potential homicides are prevented each year by the use of legal firearms in self defense. The National Safety Council also notes that guns are used some 2.5 million times a year in self defense against criminals, meaning that firearms are utilized to protect innocent lives in 250 times more cases than they are used to end lives.
Asked, "how many people do you think are killed by knives each year?" the gun control fanatic responds, "We need to ban knives too," before arguing that government scientific bodies should "create a kitchen utensil that can serve that purpose but not kill or wound a human being."
Asked if nails should be banned, the fanatic responds, "It's something to think about."
Gucciardi then asks, "Do you think we should ban everything with a sharp edge?," to which the fanatic responds, "Anything that can hurt anybody."
Gucciardi then lists all the objects that should be banned – glass bottles, nails, knives, even forks – and the fanatic agrees that all of these objects should be banned "if we can find an alternative."
Raising the point that hands and fists kill more people than rifles every year, Gucciardi asks if they should be banned too, to which the fanatic responds that education is the preferred method of reducing violence.
The fanatic indicates that he is the head of a charity involved in violence prevention in schools.
It is important to stress that this is not a satire skit, this represents the viewpoint of a significant number of Americans.
Previous videos have documented how some Americans would agree with repealing the Second Amendment and allowing the government to go door to door to confiscate guns belonging to "white people" to ensure "only the criminals have the guns and get them out of the hands of law abiding citizens."
Paul Joseph Watson is the editor and writer for Infowars.com and Prison Planet.com. He is the author of Order Out Of Chaos. Watson is also a host for Infowars Nightly News.