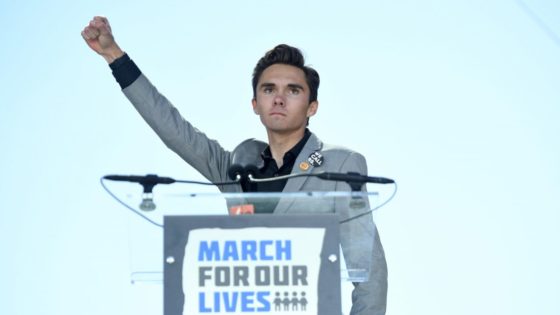 Leftist and anti-gun activist, David Hogg says he'll be running for political office as soon as he turns 25.  He plans to "read a sh#t load of books" in preparation for working on a presidential campaign in 2020 as well.
In a NY Mag puff piece, writer Lisa Miller says Hogg told her that he plans to "run for Congress when he's 25," reported The Daily Wire. The Nazi youth, hell-bent on taking away rights and freedom from everyone he can, has decided to become a part of the violent machine of government in an attempt to enslave others. No big surprise there.
https://twitter.com/KrisParonto/status/1000727115182964743?ref_src=twsrc%5Etfw%7Ctwcamp%5Etweetembed%7Ctwterm%5E1000727115182964743&ref_url=https%3A%2F%2Fwww.dailywire.com%2Fnews%2F34781%2Fhogg-announces-run-office-touts-ocasio-cortez-ryan-saavedra
Hogg said he plans to go to college first though, but added "I think I've come to that conclusion," Hogg said. "I want to be at least part of the change in Congress." Hogg also took to bashing multiple Democrats in the interview, including "old" Nancy Pelosi, "terrible on guns" Bernie Sanders, and Barack Obama, who he says "increased drone warfare and killed a lot of civilians."  At least he's right about Obama.
Miller noted that Hogg, who she describes as a "spokesman" for "radicalized" young Americans, "frequently uses the word 'narcissistic' in reference to himself." And at least, again, he's being completely honest.  Hogg is the most self-absorbed narcissistic tyrant-wannabe since Barack Obama. Afterall, this is the same guy who celebrated mosquitoes killing "billions of humans," which he thinks is good for the planet.
https://www.shtfplan.com/headline-news/david-hogg-reddit-post-celebrates-mosquitoes-killing-billions-of-humans_04032018
The Daily Wire went on to point out that Hogg is hoping tyrannical socialist Alexandria Ocasio-Cortez will someday be president. The Democratic National Committee Chairman Tom Perez even recently designated her as "the future of the Democratic party." Republicans are so excited to have her be the face of the Democratic party that they have already created a campaign ad to celebrate her political future.
"We really only remember a few hundred people, if that many, out of the billions that have ever lived," he told Miller at his house in a gated community in Parkland, ten days after the shooting. "Is that what I was destined to become?" Hogg added.