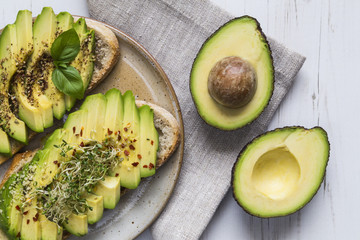 An avocado grower is warning that the United States will run out of avocados is president Donald Trump closes the southern border. What will millennials put on their avocado toast?
All joking aside, closing the southern border will impact trade but it is difficult to say in exactly what capacity.  If imports from Mexico are halted because of ongoing disputes over immigration, one grower says that avocados will no longer be readily available. "You couldn't pick a worse time of year because Mexico supplies virtually 100 percent of the avocados in the U.S. right now," Steve Barnard, the president and chief executive of Mission Produce, told Reuters, as reported by Fox News. "California is just starting and they have a very small crop, but they're not relevant right now and won't be for another month or so."
According to data from the United States Department of Agriculture reviewed by Reuters. It likely isn't just avocados that could be in jeopardy either.  About half of all imported vegetables and 40%  of all imported fruit comes from Mexico.  Prices could go very well go up if the border wall closes and is shut down for a significant amount of time.
Prices for goods and services in the U.S. have already risen thanks in part to Trump's trade war with China, but Americans may pay more attention due to their love of the nutritional benefits offered by eating avocados. In fact, U.S. consumption of the avocados has increased "significantly" since 2000, according to the Ag Marketing Resource Center. In 2017, Mexico supplied most of the avocados imported into the U.S. "In 2017 the United States imported $2.6 billion in fresh avocados and exported approximately $28,500 in fresh avocados," the group stated.
Over the weekend, Trump moved to cut direct financial aid to El Salvador, Guatemala, and Honduras. Citizens of those countries are fleeing north and overwhelming U.S. resources and welfare, including as part of organized caravans. Trump also accused Mexico and Central American nations of doing "nothing" to help stop the problem as illegal immigration surges.
In a series of tweets over the weekend, the president blasted Democrats for failing to stop the immigration crisis at the border and made his threats about shutting it all down.