This article was contributed by The Wealth Research Group.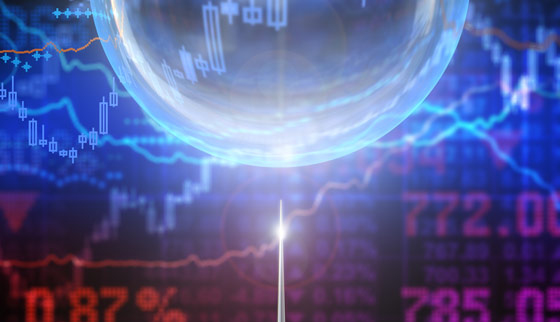 A market gripped in the throes of the "everything bubble" and hooked on debt like a heroin addict: it's not a pretty picture and you won't find any of the corporate-owned media gurus talking about it. For the real story, you've got to avoid the purveyors of fake news and look to a market grandmaster like Harry Dent, which Wealth Research Group.com INTERVIEWED just a couple of days ago.
Here's the FIRST bombshell he laid on: according to Harry Dent, in past generations, it was the economy that kept the stock market going, but today it's the complete opposite – the financial bubble is the only thing that's keeping the economy afloat. This is happening even though demographic trends in all developed nations have been down since 2007.
Debt levels are higher than ever, not only in seemingly wealthy nations but also in developing markets, which are the most likely to default on their debts. The U.S. and China are also guilty as their sovereign and corporate debt levels mount while stock market index funds continue to march higher.
We're seeing a repeat of the events that preceded the 2008 market collapse, and at this point, we're just waiting for a catalyst to start the domino effect. In 2008 it was the subprime loans starting to default that started the destructive chain reaction. Today, with a massive asset bubble, slowing demographics, and a debt-ridden global economy, it won't take much to trigger a crash.
In light of this, the outlook is bleak: Mr. Dent sees a depression ahead because today's bubbles are much bigger now – and a bigger bubble means a bigger burst. According to Harry Dent, the most likely trigger will be corporate debt defaults, especially in the world's emerging markets.
Even if that's not the exact trigger, the collapse is inevitable because of just how extreme the bubble is now. It's been stretched by endless central bank money printing – far beyond the financial crisis of 2008. The greatest financial threat, therefore, is the debt-fueled bubble, and it won't take much to burst it.
What will the collapse look like? According to Harry Dent, an estimated $60 trillion in financial assets in the U.S. will disappear and not come back for decades. Globally, the estimate is $120 to $150 trillion completely destroyed: that's twice the global GDP and three times the U.S. GDP.
And while governments and central banks will claim that the debt- and consumer-driven economy is thriving, Harry Dent has a dose of reality for us: only the wealthiest among us are still spending healthily, while everyday people haven't been spending strongly since the Great Recession because they never benefited from the so-called post-2008 "recovery."
Remember, the vast majority of hard-working Americans didn't own stocks or real estate during the past 10 years so they didn't enjoy the spoils of this gigantic asset bubble. If you're not positioned properly – for instance, if you're all-in on S&P and NASDAQ stocks and don't own any precious metals or mining shares – you risk being exposed when the final reckoning comes.
To get ready for the oncoming financial super-storm, be sure to get your copy of Harry Dent's newest classic, Spending Waves, as well as Wealth Research Group's must-read financial reports. These include our Ultimate Report on Safe-Haven Assets so you can protect yourself during the coming economic reset, our road map to The 5 Essential Steps to Financial Independence, along with the exclusive Quintessential Gold and Silver Stock Playbook so you can profit from hard assets in turbulent times.