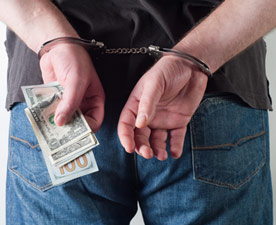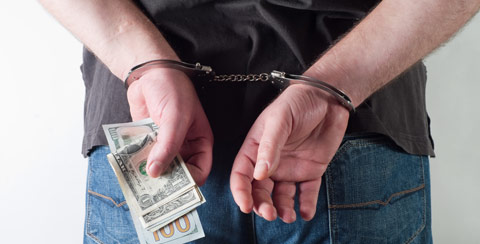 How can you tell if you're living in a police state?
The short answer is that you're living in a police state when everyone becomes a suspected criminal or terrorist. And if the following report is any indicator, then welcome to the Reich.
The Justice Department has ordered bank tellers across America to contact law enforcement if they suspect your cash withdrawal may have something to do with illicit activity. There doesn't need to be proof, or any sort of red flag indicator – merely suspicion by the bank teller processing your transaction is now enough to have you investigated by authorities.
Via The Sovereign Man Simon Black

What a lot of people don't realize is that banks are already unpaid government spies.

Federal regulations in the Land of the Free REQUIRE banks to file 'suspicious activity reports' or SARs on their customers. And it's not optional.

Banks have minimum quotas of SARs they need to fill out and submit to the federal government.

If they don't file enough SARs, they can be fined. They can lose their banking charter. And yes, bank executives and directors can even be imprisoned for noncompliance.

This is the nature of the financial system in the Land of the Free.

And chances are, your banker has filled one out on you—they submitted 1.6 MILLION SARs in 2013 alone.

But now the Justice Department is saying that SARs aren't enough.

Now, whenever banks suspect something 'suspicious' is going on, they want them to pick up the phone and call the cops:

"[W]e encourage those institutions to consider whether to take more action: specifically, to alert law enforcement authorities about the problem, who may be able to seize the funds, initiate an investigation, or take other proactive steps."

So what exactly constitutes 'suspicious activity'? Basically anything.

According to the handbook for the Federal Financial Institution Examination Council, banks are required to file a SAR with respect to:

"Transactions conducted or attempted by, at, or through the bank (or an affiliate) and aggregating $5,000 or more…"

It's utterly obscene. According to the Justice Department, going to the bank and withdrawing $5,000 should potentially prompt a banker to rat you out to the police.
Do you need to withdraw cash to purchase a used car from a private seller?
Or perhaps you are pulling out some emergency cash for a loved one.
Either one of these activities are now considered suspicious and if your cash withdrawal amounts to even a few thousand dollars your bank teller is under a legal requirement to alert officials about your suspected criminal activity. And before you argue that you can't possibly be a suspect because you have done nothing wrong, consider that even being suspected of being a suspect is now enough to land you on a terrorist watchlist in America.
In fact, according to the Obama Administration concrete facts are no longer necessary:
The Obama administration has quietly approved a substantial expansion of the terrorist watchlist system, authorizing a secret process that requires neither "concrete facts" nor "irrefutable evidence" to designate an American or foreigner as a terrorist, according to a key government document obtained by The Intercept.

…

Because the government tracks "suspected terrorists" as well as "known terrorists," individuals can be watchlisted if they are suspected of being a suspected terrorist, or if they are suspected of associating with people who are suspected of terrorism activity.
But you're not a terrorist, right?
Wrong. In America, everyone is now suspected of terrorism or suspected of associating with people who might be terrorists. And because this is now the culture that exists within law enforcement agencies on the local, state and Federal levels, everyone is considered guilty until proven innocent.
And that goes double for your personal assets.
In 2012 law enforcement agencies seized $4.2 billion in assets from Americans. In most cases the money, homes, cars or other assets were seized without probable cause, warrants, charge or trial.
Because according to the government, you don't own that and the Justice Department just made it easier to engage in authorized "shake-downs" of the American people.
Here's how the scam works:
A police officer pulls a car over for speeding.  The officer thinks he smells marijuana and seizes money and perhaps other property from the vehicle. The officer (or other law enforcement agent) writes and signs a statement or affidavit explaining the situation and reasons for the seizure of the property.   That statement is used to show the courts the link between the alleged criminal behavior and the seized property.

This amounts to true "highway robbery" or roadside piracy.

Because the case is against the property and not the owner, court cases have names like these:

United States v. $124,700 in U.S. Currency

State v. One 2012 Mercedes Benz

United States v. One Gold Necklace


Property, of course, does not have constitutional rights.  As Sarah Stillman explains in her New Yorker article Taken:

There's no right to an attorney and, in most states, no presumption of innocence. Owners who wish to contest often find that the cost of hiring a lawyer far exceeds the value of their seized goods. Washington, D.C., charges up to twenty-five hundred dollars simply for the right to challenge a police seizure in court, which can take months or even years to resolve.

….

Asset forfeiture creates huge incentives for law enforcement officers to "police for profit".  The money can be used for salaries and to purchase advanced equipment.
From this point forward keep in mind that a trip to the bank could end with you being "investigated" by police. As we've seen time and again, police can simply call in a K-9 unit that will inevitably find trace amounts of drugs on your cash (because all cash has trace amounts of cocaine, meth or other substances). Once you've been identified as a suspected drug smuggler, they give themselves the authority to seize your cash, car, and even your house if they so choose.
It's a sad state of affairs when law-abiding American citizens now have to worry about how to hide their money where the bankers and police can't find it. When travelling or keeping money at home consider the Shovel and Maneuver for Hiding Gold, Guns and Other Assets:
And of course, you'll want to keep mum about your new investments and how they're being stored, because loose lips will pose a threat to not just your gold hoard, but your life as well. If thieves get wind of your investments, they may show up not with a metal detector, but armaments, putting your entire family at risk.
The scary part is that the thieves are now our very own government officials and law enforcement authorities so they can give themselves the legal authority to come in guns blazing anytime they so choose.