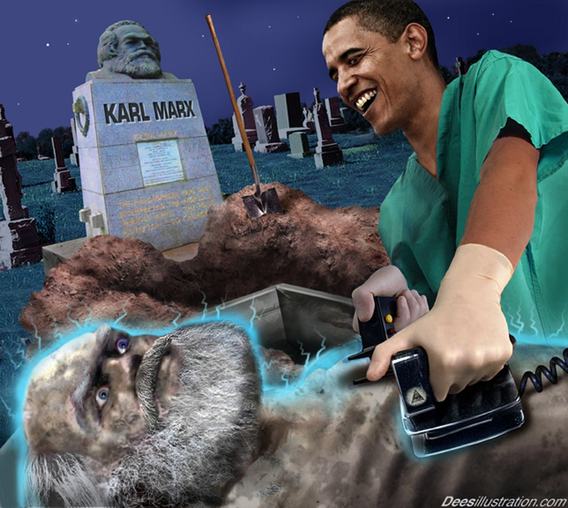 Sorcha Faal of What Does It Mean writes World Mourns As Communist Darkness Falls Upon America:
In what is being described as one of the most astounding power grabs in modern history by newspaper headlines around the World, President Obama has succeeded in his audacious plan to remake America into a full fledged godless communist empire barely one year into his term with the enactment into law by the US Congress of his mammoth health care plan innocuously named H.R. 3200-Americas Affordable Health Choices Act of 2009 and described by one Kremlin legal expert as having "nothing at all to do with health, but everything to do with control."

To fully grasp the full and grim implications of Obama's power grab over the American people with his Nationalization of the United States entire health care industry and student loan programme accomplished with the passing of this new law, it must be remembered that since taking office on January 20, 2009 he has also taken over their automobile,  mortgage, and banking industries too with the Internet said being next "in his sights".

More insidious than these takeovers that have been destroying America's once vibrant capitalistic system is the new regime these once free peoples are now destined to live under, and where under their new health care law will require all of them to carry a National ID card (page 58) and allow their government unlimited access to all of their bank accounts and personal records (page 159).

And in a chilling instance of the ancient prophecies for these time of "The Mark of the Beast" becoming reality, the National ID card all of the American people will now be required to possess (regardless of age) is to be combined with their new government ID card under their upcoming new immigration laws allowing them to work and is biometrically designed to "read" the backs of their hands.
If there is one promise that President Obama seems to be keeping, it's that his presidency will fundamentally change America.
When communist dictators like Cuba's Fidel Castro cheer on the steps taken to nationalize America's health care system, it should sound alarms.
"The Commies are coming, the commies are coming!" might very well be what Paul Revere and Isreal Bissell would be chanting if they were alive today and riding through our streets.
The world, especially those parts of the world that have experienced communism first hand, sees what is happening.
Millions of Americans see what is happening.
So we must ask: How could this be happening in America? And why are so many of our own citizens not only accepting it, but readily promoting it?
Socialism, Communism, Fascism. Do they not understand the danger? Has our education system dumbed us down so much that we don't remember what these systems did in the last century with the deaths of well over 100 million people resulting from their infectious spread?
In the end, it doesn't matter what you call it – individual liberty does not exist under any of the aforementioned systems. If we keep going this direction, it will no longer exist in America either.
The once great bastion of freedom where all of the world's oppressed once dreamed of living  is in dire straits.