As was suggested in Signs of Coming Riots, there are a variety of trends developing throughout the United States that indicate mid-east, Greek and London style riots are coming to the streets of America.
The question is, how far should cops go to thwart social network and cell phone organization of protests?
Via CBS San Francisco:

A planned protest at the Bay Area Rapid Transit Service's Civic Center station over the shooting of a man last month failed to materialize during Thursday afternoon's commute.

…

As an added precaution, the agency shut off cellphone service on the station's platform. While Alkire said the tactic was an unusual measure, he said it was "a great tool to utilize for this specific purpose" given that the agency was expecting a potentially volatile situation.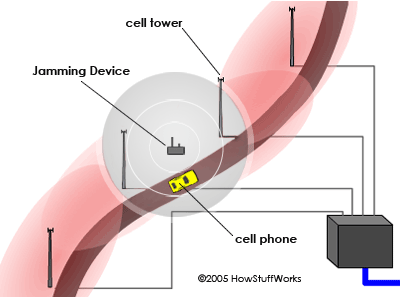 Is jamming cell phone signals a viable, constitutionally-protected option for police, or do such actions by police and governments fall within the same  realm as Iran's response to quelling organized protests by shutting off access to Facebook and Twitter? We note that at the time the Iranian government shut down the ability for protesters to organize they were met with strong opposition by none other than our own Secretary of State Hillary Clinton, who said:
"The United States believes passionately and strongly in the basic principle of free expression."

"We promote the right of free expression."

"And it is the case that one of the means of expression, the use of Twitter is a very important one, not only to the Iranian people but now increasingly to people around the world, and most particularly to young people."

"And I think keeping that line of communications open and enabling people to share information, particularly at a time when there was not many other sources of information, is an important expression of the right to speak out and to be able to organize."

-Secretary of State Hillary Clinton
Casey Jordan, of TrueTV, makes a loosely knit  argument on CNN that police should be able to shut off cell phone service in the interest of public safety, with her argument essentially boiling down to a "cost benefit analysis":
Whether it's legal or not it hasn't been tested in the courts. Public safety exceptions to, or encroachments on our personal freedoms, do happen. And remember we just had evidence of that protest getting out of control last month. Of course everyone wants their personal freedoms. They fear censorship. They're all worried about living in a police state, and yet, when a protest turns into violence and people get hurt they love to blame the police. They can't have it both ways.

…

There's nothing to stop the protest from happening. They didn't try to shut down the protest. They simply turned off the cell service so that it couldn't become viral.

…

The framers of the Constitution could not possibly have foreseen the world that we now live in with our smart phones and our WiFi and our hotspots. The bottom line is it was a lot different 200 years ago when your protest was standing on a soap box on the street corner. Now you can incite people with misinformation, with calls to violence, and in many ways things can get out of hand.

…

You have to ask yourself, do you have a fundamental right to cell service?
We are anxiously awaiting Secretary Hillary Clinton's response on the matter. If it is acceptable for the Iranians and other protest organizers around the world to use cell phones and social networks, so too must it be acceptable for U.S. citizens to engage in the same activities. Or were those just platitudes and propaganda statements? (rhetorical question)
Ms. Jordan asks if we have a fundamental right to cell phone service. In response, we suggest that, like health care, there is no such fundamental right.
What we do have, however, is a fundamental right to engage in a person-to-person or person-to-business contract with a cell phone service provider and a health care provider, without the interference of government. This is a private transaction, and one that sits outside of the boundaries of law enforcement or the government unless probable cause or evidence exists that a crime is about to be, or has been, committed. Using as evidence the crimes of others, as in the case of riots that occurred a month prior, is not justification or evidence that a crime will be committed in the future.
Because protests and their organization are in and of themselves a protected Constitutional right, BART and San Francisco police did, in fact, trample those rights by jamming private cell phone signals. They not only violated the personal contract of individuals acting within the law using their cell phones signals, but attempted to mute a right protected by the Constitution.
In response to Ms. Jordan's claim that the framers could not possibly have foreseen cell phones and social networks, we say so what? This argument is completely irrelevant.
Are we to believe that during the soapbox speeches and writings of our Framers and the other Patriots of that time there was no misinformation, no calls to violence? When revolution broke out in the colonies, did things not "get out of hand?" The technology for delivery of the message has changed, but the messengers have not.
Certainly, protests may turn to riots. There may be violence. People on both sides may get hurt. This is the nature of such things.
But, the right to assemble in protest is fundamental – whether it is done by a cell phone text message, a tweet or by the voice coming from your mouth.
This right itself is absolutely essential to the survival of our nation, regardless of the outcomes of the  assemblies themselves.
Hat tip Paul D., Jim, Brother Slavo