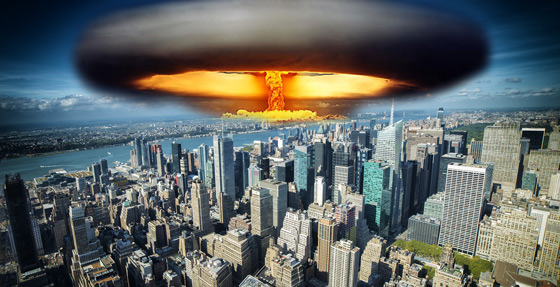 Google searches for the phrase "World War 3" spiked after word of the United States-led strike on Damascus and Homs in Syria. As the globe lingers on the precipice of a war, and the mainstream media glorifies the beginnings of what could be the third world war, many are not so calm.
The last time Google searches for World War 3 spiked this dramatically was when Trump ordered a missile strike on a Syrian airfield which was allegedly used to launch the Khan Sheikhoun chemical attack, which killed dozens of civilians in April 2017. The U.N. blames Syria's Bashar al-Assad government for the Khan Sheikhoun attack, yet there's not much evidence still that the Syrian government used chemical weapons on their own people in either attack.
According to Newsweek, the spike in Google searches is due to fears of an actual war. U.S. allies U.K. and France joined the strikes on what the coalition said were chemical weapons facilities belonging to the Bashar al-Assad regime. The strikes took place in the early hours of Saturday morning (April 14), Syria time, and were designed to punish and deter the use of banned weapons.
Russia, which is backing the Syrian government with troops on the ground, told the UN it is being "threatened" and warned the U.S. and its allies of "consequences" for striking Syria. Russia has vowed retaliation before the strikes took place, yet it's hard to say if Putin will follow through.
Trump tweeted about the strikes the next morning, rattling some of the more leery civilians. "A perfectly executed strike last night," Trump tweeted on Saturday morning. "Thank you to France and the United Kingdom for their wisdom and the power of their fine military. Could not have had a better result. Mission accomplished!"
https://twitter.com/realDonaldTrump/status/985130802668294144
Not long after the tweet, the mainstream media helped ramp up fears of war by glorifying the attack, while condoning Trump's use of wordage.
https://twitter.com/realDonaldTrump/status/985492862958698497
While some don't think a large scale war is possible, the more logical and sound minded folks understand that this strike did pose a serious risk to world peace. Attacking Syria always risks hitting the Russian military because of its large presence in the country and triggering an escalation that, in the worst case scenario, leads to a direct conflict between Russia and the U.S., the world's two most heavily armed nuclear powers. In the best case scenario, we'll be left with a second cold war, one much "colder" than the last.
French Minister of the Armed Forces Florence Parly said after the strikes that the allies "are not looking for a confrontation and refuse any logic of escalation. That is why, with our allies, we ensured that the Russians were notified ahead of time.