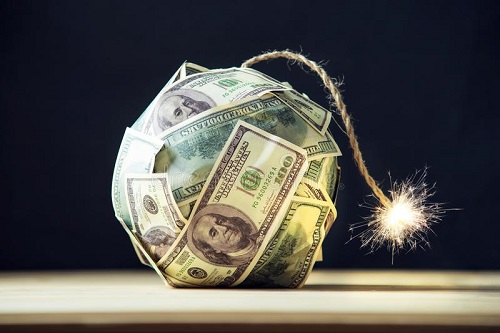 Goldman Sachs has come out and said president Donald Trump's tariffs have had a bigger impact on consumer prices than originally thought. Additionally, the bank has said what the rest of us already know: the tariffs are being paid entirely by United States businesses and consumers; not the Chinese government.
Financial Experts Warn: Americans WILL Pay The Cost Of A Trade War
Some sites have been warning that prices will spike on many items (food included) thanks to the taxes levied on imported Chinese goods and the mainstream media is finally admitting that taxation isn't good for an economy. Goldman Sachs also said that the prices American consumers and businesses pay are higher because China is covering the cost of the additional tariffs.
"One might have expected that Chinese exporters of tariff-affected goods would have to lower their prices somewhat to compete in the US market, sharing in the cost of the tariffs," Goldman said according to CNBC.  But that's not how business works. When the cost to make a good goes up, the cost to buy that good goes up to cover.  Businesses don't go into business to lose money and just because we're talking about Chinese goods, that doesn't change the finite laws of basic economics.
From the very beginning, Trump has repeatedly and inaccurately claimed that China will pay for tariffs imposed by the U.S. "However, analysis at the extremely detailed item level in the two new studies shows no decline in the prices (exclusive of tariffs) of imported goods from China that faced tariffs."
https://www.shtfplan.com/headline-news/financial-crisis-the-trade-war-cost-americans-1-4-billion-per-month-last-year_03052019
Additionally, in order to cover the increased costs of goods, U.S. producers have even hiked their prices in response to protection from Chinese competitors, the bank said. Goldman Sachs predicts that the U.S. and China will come to some sort of an agreement later this year. "Our baseline expectation is that the U.S. and China will strike a deal later this year. We think this would come in the form of a gradual, staggered reduction in tariffs on a last-in, first-out schedule," the bank said. "There is, however, a risk of further escalation," Goldman said.
Further escalation could damage the economy and would make Trump's reelection chances suffer.
The most recent round of trade talks, which ended on Friday with no final agreement, was overshadowed by President Donald Trump's decision to more than double tariffs on $200 billion of Chinese goods, from 10% to 25%.

White House Economic Adviser Larry Kudlow on Sunday said that Trump and Chinese President Xi Jinping will likely meet at the June G-20 summit in Japan. He said that he expects China to retaliate against the U.S., and acknowledged that the U.S. will pay for China tariffs. –CNBC
Other investment banks are preparing clients for a "worst-case scenario." According to "experts," that scenario would be a fight that sends the S&P 500 into a correction, which would be 10% off that key indicator. The companies likely to be hardest hit, say the experts, are likely Boeing, Apple, and Caterpillar. They are all down about 5% this week already, according to another report CNBC.
Then the financial pain always ripples into the metals, mining, and automobiles sectors – passing on higher costs to the consumers, or cash strapped Americans. "Fasten your seatbelt and don't hold your breath," Bank of America strategists wrote in a note this week.