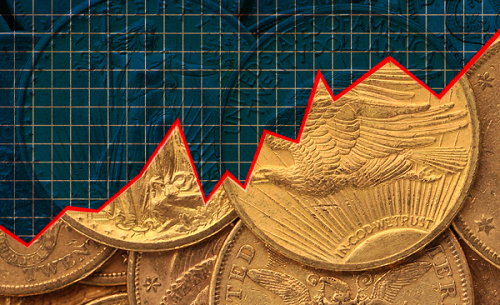 Amir Adnani, the chairman of Goldmining Inc. sat down with Kitco's Daniela Cambone at the Vancouver Resources Investment Conference 2020. Adnani had some very interesting takes on gold.  He says the price is higher but hasn't reached its peak just yet.
"There are many factors and market uncertainties that could push gold prices higher, but many obstacles still remain before a breakout to the upside is imminent," Amir said as gold prices edged up on Monday to $1,578.50 as of 9:57 am EST.
A Global Gold Rush Is IMMINENT!
Is this gold rally for real? Adnani says he hasn't heard a convincing answer as to why the gold mining stocks are not keeping up the price of gold as was the case in 2016. The sense of panic is no longer there, however, the gold price hasn't even peaked yet.

Hunter Riley III's book, Stack Silver Get Gold: How To Buy Gold And Silver Bullion Without Getting Ripped Off!
is one of the best resources available to help you get gold without getting ripped off. This 2019 updated edition is the only gold and silver investing book you ever need because it's written by a nationally recognized precious metal investing expert and Chicago Mercantile Exchange futures trader with 17 years of buying gold and silver bullion under his belt. He reveals the tricks of the trade that people in the gold & silver industry don't want you to know.

"Stack Silver Get Gold will become the bible for both first time and long time precious metal investors. Tons of useful information and very well written. You have a real winner in this book." -Bill Zielinski (editor of GoldandSilverBlog)
You know buying silver and gold is smart & you're ready to buy gold and silver bullion before the public catches on but aren't sure where to start or you have questions like…
How do you buy gold or buy silver without getting ripped off and avoid sophisticated silver and gold buying scams on TV/internet? How do you avoid having your gold and silver confiscated by the government? How do you start investing in gold and silver if you don't have a TON of money by using a strategy called dollar-cost averaging? Where do you go to make a HUGE silver and gold investment?
This article contains affiliate links.