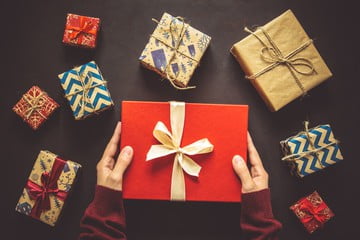 Consumerism is rampant in our culture and a large part of the holidays.  But this year, instead of giving someone a useless gift, why not help them become more prepared and able to live a more self-sufficient life?
Of course, prepping gifts aren't for everyone.  In fact, some of my family members and friends think I'm crazy for storing food and keeping water filtration systems handy.  To each their own, but if you do know a prepper, I can almost guarantee they'd rather have something useful for their survival stash than a useless knick-knack.
Books – You can't go wrong with any of the following books. All would be well received by almost any prepper.  Michael Snyder's book, Get Prepared Now!: Why A Great Crisis Is Coming & How You Can Survive It
 is an excellent resource for all levels of preparedness. Tess Pennington's book, The Prepper's Blueprint: The Step-By-Step Guide To Help You Through Any Disaster
can teach us all one thing about the history of disasters: those who are prepared have a better chance at survival than those who are not. Pennington's The Prepper's Cookbook: 300 Recipes to Turn Your Emergency Food into Nutritious, Delicious, Life-Saving Meals
is also a fantastic resource, with a lot of helpful recipes to make a survival situation much more comfortable.
Butane Single Burner Stove – most preppers feel that having a backup source to cook the food they've prepared for storage is essential.  I'd have to agree. It's not always feasible to cook over a fire and one of these single burner stoves can do the trick. They don't cost a lot of money but will be worth their weight in gold to any prepper. 
LifeStraws – Whether you decide on the original LifeStraw or a water bottle, it's kind of difficult to convince a prepper that too many
ways to filter water is a bad thing. LifeStaws are great because they are known to work really well and are easy to tote around. A LifeStraw will filter up to 1000 liters of contaminated water without iodine, chlorine, or other chemicals; it does not require batteries and has no moving parts. It will remove a minimum 99.9999% of waterborne bacteria, 99.9% of waterborne protozoan parasites, and filters to 0.2 microns; surpasses EPA filter standards.
Cast Iron Cooking Items – Cast iron is a favorite of preppers because it's durable, long-lasting, has many uses, and pretty difficult to actually destroy. Cast iron is the last, but not least, suggestion because this will be a little bit more pricey of a gift when compared to the above options. You can use a cast iron dutch oven to bake bread or make tasty stews with the healthful cooking of iron. Paired with Tess Pennington's The Prepper's Cookbook, it's impossible to go wrong!  But perhaps the best part about cast iron is that it generally
wipes clean (grease is good for "seasoning") and doesn't require soap (in fact, don't use soap) to clean. If there are too many food particles, just boil with water, dry and season with olive oil, coconut oil or your even bacon grease and it is good to go!
These are only a few suggestions for gifts this holiday season for the preppers you know. If you have any more suggestions for our readers, please leave them in the comments below!
This article contains affiliate links.