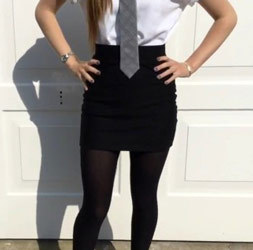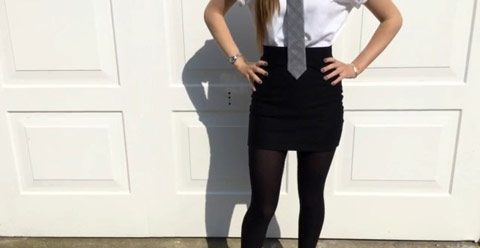 Schools in Germany are ordering teenage girls not to wear mini-skirts or shorts so as to prevent attacks from Muslim migrants who may be offended by such attire.
A school located in Pocking, Bavaria sent a letter to parents advising them of new "security measures" after a migrant shelter was opened at the school's nearby gym.
Parents were warned that their children should not wear revealing clothes for fear of "misunderstandings" that could lead to "attacks" by the migrants.
Children were also told that "derogatory or racial remarks" would not be tolerated. Some parents were incensed by the letter but principal Martin Thalhammer said the measures were necessary to protect the children.
The letter was actually sent out at the end of June, although it is drawing fresh attention in light of Germany's plan to accept 800,000 new migrants before the end of the year and 500,000 a year for the foreseeable future.
I was also contacted by another German who told me that a school in the area his family lived is telling girls not to wear shorts – even in hot weather – to prevent sexual assaults by migrants.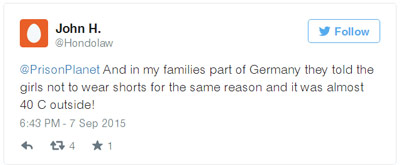 A 7-year-old girl was raped by a north African migrant in a German park this week, a story that has received little media attention.
Since nearby Sweden opened its doors to mass immigration, the country has become the rape capital of the west, with cases skyrocketing by 1400%. Around 77.6% of the rapists are identified as "foreigners".
As we have previously documented, Muslim rape culture is a major problem in Scandinavia but its critics have been labeled racist and Islamophobic.
The United Kingdom, which is also set to accept a further 20,000 refugees, has also seen numerous cases of Muslim rape gangs, including a sex trafficking ring in Rotherham that was covered up by local councilors and the police over fears that identifying the culprits – almost all of whom were Pakistani men – would be seen as politically incorrect.
Facebook: https://www.facebook.com/paul.j.watson.71
*********************
Paul Joseph Watson is the editor at large of Infowars.com and Prison Planet.com.