Editor's Note: Extreme government policies combined with the public's loss of confidence in the government's ability to mitigate crisis often results in an extreme response from the populace. This is currently no more evident than in Germany, where tens of thousands of undocumented "migrants" have made their way into a once peaceful region of Europe. The government has lost control and the people are taking matters into their own hands. While a more constructive approach was available from the get-go, German citizens are now organizing "hunting" parties against migrants and we suspect the trend will spread to the rest of Europe. Call it racism, call it xenophobia, call it what you will. The fact is that people living in fear of even going outside are at wits end and feel they have been left with no other choice. Such extreme responses may well make their way to the United States in due course. How many more domestic terror attacks against Americans will it take? Probably not many.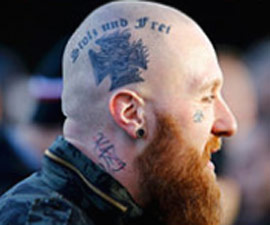 Via Zero Hedge:
On Sunday, we learned that the man who stormed a Paris police station while waving a meat cleaver and donning a fake bomb vest once lived in a center for asylum seekers in Germany and may have ties to the wave of sexual assaults that occurred in Cologne on New Year's Eve.
The revelations came just a day after some 1,700 people turned out for a PEGIDA rally where demonstrators waved anti-migrant banners and called for the ouster of Angela Merkel.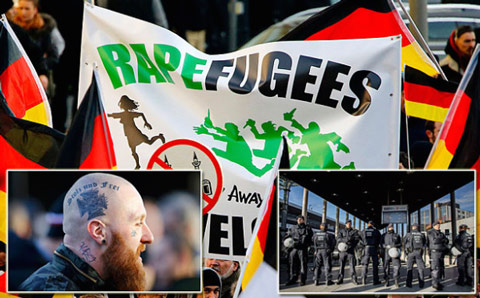 We've also noted that with each passing "incident" (be it a massacre of civilians like that which occurred in Paris, a bomb scare like what unfolded in Hannover, or sexual assaults like those that took place across Europe on New Year's), Europe's goodwill towards refugees gradually evaporates as even "compassionate" Westerners run out of patience in the face of what's perceived as a growing threat to the region's culture and security.
Ultimately, we've argued that it's probably just a matter of time before some Europeans take matters into their own hands. That contention seemed even more likely after the New Year's Eve attacks in Cologne where police have been blamed for their failure to protect the crowd.
Well sure enough, reports now indicate a rogue band of "bikers, hooligans and bouncers" organized a migrant "manhunt" on Facebook before attacking a group of Pakistanis in Cologne.
"Two young Pakistani men needed hospital treatment after being attacked by vigilante gangs hunting foreigners in Cologne in apparent revenge attacks for the mass sexual assaults on women on New Year's Eve," The Evening Standard reports, adding that "police said the first incident took place early yesterday evening when a group of about 20 men attacked six Pakistanis near the main station near the railway station where the New Year's Eve attacks took place."
"Shortly after the first attack, a similar incident unfolded when a 39-year-old Syrian national was assaulted by a group of five people," Deutsche Welle adds. Here's more:
Cologne tabloid "Express" reported on Monday that a group of "bikers, hooligans and bouncers" had used Facebook to plan a "human hunt" to "clean up" Cologne's city center. Early on Monday, a police spokesperson was unable to confirm the reports.

On Sunday afternoon, police had received tipoffs about "groups," which were "specifically looking for provocation," police said. Officers were deployed in the city center and Cologne's "Altstadt" quarter in large numbers. As the result of several identity checks, four people were briefly detained, reported a police spokesman. Whether they were among the attackers is yet to be determined. Two people also faced criminal charges.
Here's a bit more from The Telegraph:
Nearly all of the men involve in Cologne's New Year's Eve sex attacks were migrants, Germany's interior ministry has indicated.

"Based on testimony from witnesses, the report from the Cologne police and descriptions by the federal police, it looks as if people with a migration background were almost exclusively responsible for the criminal acts," Ralf Jaeger, interior minister from the state of North Rhine-Westphalia, said on Monday.
His remarks come amid a violent backlash against the migrant community in Germany after a gang of men reportedly assaulted a group of Pakistani and Syrian asylum seekers on Sunday night.

The victims were injured in the attack, which took place near Cologne train station and they had to be taken to hospital.
Cologne's local newspaper Der Express reported that a group of thugs had planned a "manhunt" for asylum seekers.
So there you have it: the vigilante "justice" has begun.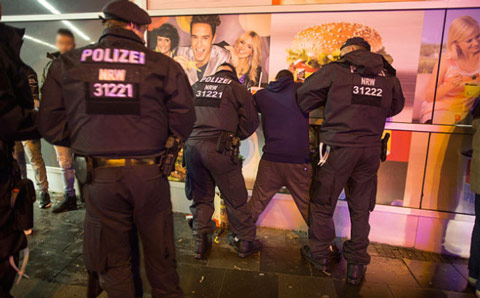 Needless to say, this does not bode well for the stability of German society. Should the "bikers, hooligans, and bouncers" align themselves with a political movement, the stage would be set for a veritable (and possibly violent) coup and with 3,000 new migrants entering the country each and every day, you can expect public support for Merkel and her "yes we can" refugee policy to dwindle in lockstep with the inexorable flow of asylum seekers.
In the meantime, if you are a foreign national walking around in Cologne and you spot a "hooligan" or worse, a "biker", run.
Also Read:
The Refugees Didn't Realize This European Woman Was Fluent in Arabic
Muslim Man Warns Germans: We Will Marry Your Daughters And Conquer You With Births
Soft Targets: FBI Arrests Islamic Terrorist Who Planned Mass Casualty Attack On Rush Hour Commuters and College Lunch Room
Muslim Migrant Beats, Rapes North Dakota Woman While Chanting "Allahu Akbar"