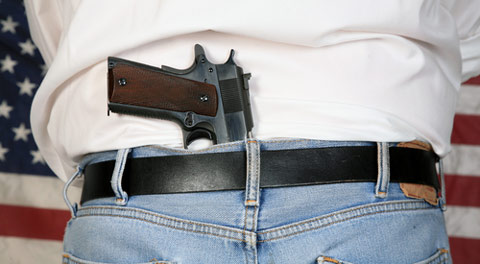 The State of Georgia has just signed an unprecedented new law that removes all handgun carrying and possession permissions to allow lawful residents the ability to carry their concealed firearms just about everywhere including schools, churches, government buildings, nightclubs and bars. The National Rifle Association hails it as the "most comprehensive pro-gun reform legislation introduced in recent state history."
Critics have appropriately dubbed it the "Guns Everywhere Bill," with former Rep. Gabrille Giffords (D-AZ) calling it the "most extreme gun bill in America."
But proponents of the legislation say it's exactly what residents need to protect themselves from criminals.
Georgia Governor Nathan Deal signed into law today what supporters call a historic victory for the Second Amendment.

The new law, called the "Safe Carry Protection Act", vastly expands where guns will be allowed in the state.

As of July 1st, licensed gun owners in Georgia and visitors from 28 other states will be allowed to bring a gun into a bar without restrictions and carry a firearm into some government buildings. Under the law, school districts will be able to decide whether they want some employees to carry a firearm, and religious leaders can decide whether to allow licensed gun owners to carry guns into their church, synagogue or mosque.

Deal said the following about the bill:

"People who follow the rules can protect themselves and their families from people who don't follow the rules. The Second Amendment should never be an afterthought. It should reside at the forefronts of our minds."

While signing the bill, he said:

"Our state has some of the best protections for gun owners in the United States. And today we strengthen those rights protected by our nation's most revered founding document."

In addition to allowing licensed owners to carry in more places than ever, the bill also eliminates the fingerprinting requirement for renewing weapons carry licenses, prohibits the state from creating and maintaining a database of licensed weapons carriers, and repeals the state-required license for firearms dealers.
While New York City Mayor Michael Bloomberg recently launched a new $50 million campaign to disarm the citizens of his high-crime city claiming his efforts "will protect innocent children and innocent people," Georgians realize that the only people who will be protected by disarming a law abiding public are the criminals predators who prey on those who have no way of defending themselves.
Georgia's unprecedented legislation is not only a victory for protecting the founding principles of the Second Amendment, but for the law abiding citizens who no longer have to live in fear of violent offenders or a government that would punish them for exercising their right to protect themselves when faced with the threat of injury or death.