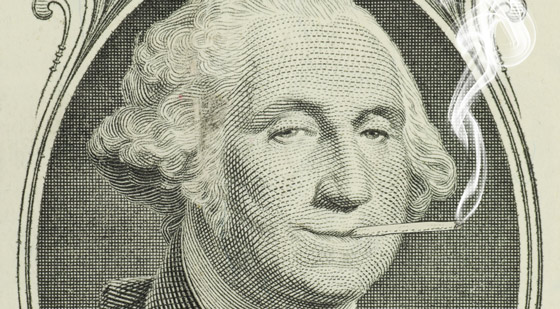 Back in the day George Washington had an entire farm field dedicated to the growth of hemp. He loved the bud and in 1794 he even wrote a letter to Secretary of Finance William Pearce in which he marveled at its benefits, saying to Pearce, "Make the most of the Indian hemp seed, . . . and sow it everywhere!"
I want you to make the most of Hemp and plant it everywhere on my farmlands that haven't been previously reserved for other things.

…

The establishment of Arsenals in convenient and proper places is, in my opinion, a measure of high national importance meriting the serious attention of Congress; and is one of those measures which ought to be brought to their view.
In short, Washington wanted Cannabis hemp fields to be spread from sea to shining sea, because it was a lucrative crop that would have had a significant impact on America's economy.
Its industrial uses are well known, but in the 1900's industry lobbyists moved to prohibit  growing and consumption of hemp. There was literally no other reason for its outlaw save the fact that big industry was threatened by its many uses.
It was unfortunate, because from a health standpoint, the medical benefits of marijuana and concentrated hemp oil extracts are now very well known and millions of people with ailments like pain, stress, nausea and scores of other concerns lost access.
Moreover, its banning in the last century would lead to an eventual "war on drugs" that has led to the deaths of tens of thousands of people worldwide.
But this week all of that changed, as members of the House, Senate and Executive branch came together to bring access to the next level.
As noted by Gangpreneur, the benefits of the latest bi-partisan push to legalize industrial hemp cannot be understated and may well fundamentally change how some parts of our country's economy work:
The repeal of hemp prohibition is expected to open new opportunities in agriculture, medicine, fibers/textiles, and biofuel.

…

President Donald Trump signed the 2018 Farm Bill into law on Thursday, legalizing industrial hemp and its derivatives across the country.

An amendment to the $867 billion bill — which was originally inserted by Senate Majority Leader Mitch McConnell (R-Kentucky) — officially removes hemp and its derivatives, including cannabidiol (CBD), from the Controlled Substances Act.
While THC-rich marijuana remains designated on the federal level as a drug, it's sister-plant hemp can now be grown on American farms, a move that could lead to a significant boost in the U.S. economy and help struggling and heavily indebted farmers keep their land.
From a medicinal standpoint, hemp is rich in cannabidiol (CBD), and millions of Americans across all 50 states will now have access to CBD-rich oils and supplements to help alleviate their health issues.