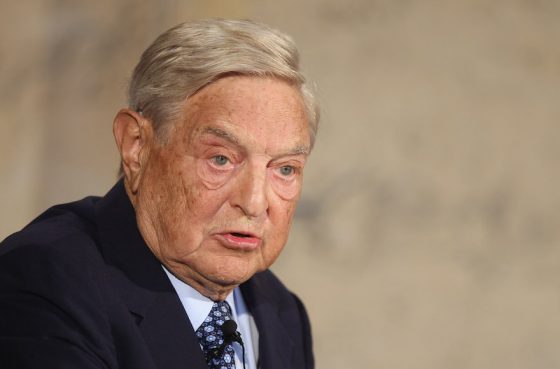 Billionaire and Hungarian born investor George Soros is making waves again. He's meddling in the Brexit issue by giving £100,000 to Best for Britain, a globalist anti-sovereign campaign.
Soros angered Brexiteers by donating even more money to a campaign desperate to keep Britain under the thumb of the European Union's control. The move comes on the heels of Soros drawing fire from Brexiteers when it emerged he was donating £400,000 to the campaign group Best for Britain to try and halt withdrawal from the EU.
The group's CEO Eloise Todd said Brexit could still be stopped and it wouldn't take much. Best for Britain seeks to stop Brexit and British sovereignty by a simple parliament vote. So why do they need Soros' money? Because globalism cannot succeed when nations seek sovereignty.  "The UK's future with the EU is not a done deal, there is still a vote to come and people across the country deserve to know the truth about the options on the table: one of which is staying and leading in the EU," Todd said.
Hungarian-born Soros, one of the world's richest men who made a billion dollars betting against Britain on Black Wednesday in 1992, accused critics of a maligning him. "I am happy to take the fight to those who have tried to use a smear campaign, not arguments, to prop up their failing case," Soros told The Guardian. 
In a bid to regain the initiative on Brexit after a rocky few weeks during which Cabinet tensions came to the surface, Prime Minister Theresa May is set to make two keynote addresses. The propaganda surrounding Brexit is fierce and attempting to manipulate the public into accepting the EU's dictatorial control over the UK.  Brexiteers are likened to Nazis, while control of the UK is celebrated by those who peddle globalism and tyranny.
Britain has a tough battle ahead to preserve their sovereignty; as taking back power has always been difficult, and even George Soros won't go down without a fight.
Foreign Secretary Boris Johnson will kick-off the Brexit blitz on Wednesday, Valentine's Day, with a call for unity over Brexit. Theresa May will deliver a major speech on post-Brexit UK-EU security in Germany next Saturday and will round off the process in about three weeks' time with a keynote address on the overall relationship, following a special "away day" summit of the Cabinet withdrawal committee at Chequers.