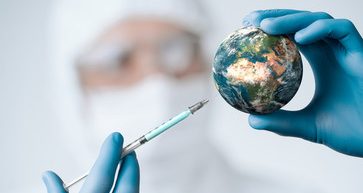 A dozen fully vaccinated staffers from Kaiser Oakland Medical Center went to a wedding in Wisconsin over Thanksgiving, and 12 of them came back with COVID-19. They all had mild symptoms and were isolated.
So the "effective" vaccine really works to stop the common cold. On December 3, the health department announced 12 people had contracted COVID and that five of the cases were confirmed to be the omicron variant with other results pending. A sixth case of the omicron variant was subsequently confirmed.
"These staff members' exposure to COVID-19 happened at a wedding out-of-state, not through their work at the medical center," said Kaiser spokesman Karl Sonkin, according to a report by KPIX 5, a CBS affiliate in the San Francisco Bay Area. "They are isolated at home with mild symptoms as reported by Alameda County, which is consistent with the reported severity experienced by other people who are vaccinated and contracted this illness."
"Unfortunately, we're going to see [more COVID cases] this winter," said Dr. Arthur Reingold. "Hospitals are going to be stretched thin and it's going to create problems. Now [will it be] the same magnitude as last winter? I certainly hope not."
And they are still urging full vaccination against something they are now admitting is just a cold and with a shot that isn't effective at preventing said cold.
Are The Unvaccinated Really Filling Up Hospitals?
Remember, COVID is nothing more than the common cold or a flu renamed. There is no test for COVID and PCR tests are not diagnostic tools.
The CDC ADMITS: PCR Tests CANNOT Differentiate Between Coronaviruses!
Omicron is an excuse to see how many more the ruling class can convince to take these shots, which are proving to be about control and not health. As the number of people willing to take them dwindles, expect more harsh rhetoric against those who continue to refuse to be controlled and more force in an attempt to keep people enslaved.