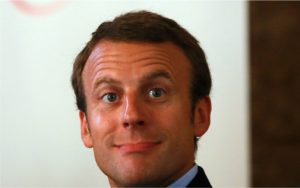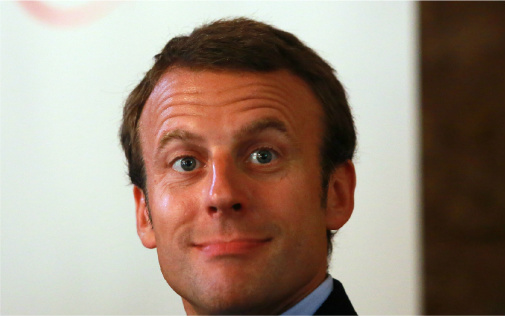 French President Emmanuel Macron, who is also a climate change alarmist,  is offering refuge to American liberals upset at President Donald Trump's decision to withdraw from the Paris climate agreement.
Speaking in English, the leftist president spoke to American liberals specifically upset that Trump has decided to no longer waste American resources on the far from proven science behind climate change.  According to conservative media, if you want to enter France, all you have to do, is become a Syrian jihadist, or believe in climate change like it's your religion.
And Macron's video, which was posted to Twitter, offers liberals in America a way out.
"I wish to tell the United States: France believes in you. The world believes in you. I know that you a great nation. I know, your history, our common history. To all scientists, engineers, entrepreneurs, responsible citizens who were disappointed by the decision of the president of the United States, I want to say, that they will find in France a second homeland. I call them, come, and work here, with us, to work together on concrete solutions for our climate, our environment. I can assure you, France will not give up the fight."
Macron also posted a picture to Twitter, with the words "Make Our Planet Great Again" on a blue background.
— Emmanuel Macron (@EmmanuelMacron) June 1, 2017
Macron is a 39-year-old far leftist who worked in mergers and acquisitions for Rothschilds bank in Paris and as the economy minister to French Socialist Party President Francoise Holland before rebranding himself as an "outsider" last year and launching a campaign for president. He defeated populist National Front leader Marine Le Pen in May to become the youngest-ever president of France.  But in reality, he's nothing but a globalist puppet who uses climate change as an excuse to tax and regulate, all while bowing at the feet of the Rothschilds and their globalist agenda. 
In what was likely the best, or probably the most memorable line from the Donald Trump's energetic address from the Rose Garden on Thursday, in which he laid out a strong case for exiting the Paris agreement, he said, "I was elected to represent the citizens of Pittsburgh, not Paris."  Trump's withdrawal from the Paris climate deal has caused much distress among leftists.  "As of today, the United States will cease all implementation of the nonbinding Paris accord and the draconian financial and economic burdens the agreement imposes on our country," Trump also said.
And on the subject of climate change, Trump is actually correct.  Figures are forced in the name of money to try to prove climate change because it's something the feeble-minded can believe in without having actual correlations.
A data set of figures, however long you compile them for remains just a set of figures unless you correlate them to something to prove a link. So, these 'how much of a grant did you say I'd get?' scientists were told what [was] needed to be proven and they said okay, the industrial revolution happened and carbon dioxide rose…it's all our fault. They either didn't look back far enough or chose not to include certain rather important chunks of information. More and more people are putting two and two together and coming up with the undeniable truth that climate change is a hell of a good way of raising money. Think Cap and Trade and fines for companies who pump out too many gases. –The Underground Medic
It's like those on the left are distressed by the very thought that they might get to keep some of their own hard-earned money and maybe even invest it or donate it to causes they find important; like climate change.  What a radical idea, though.  But, if leftists are overly upset and losing sleep by Trump's decision to keep American money in the pockets of Americans, they now may seek refuge in France. Good riddance?