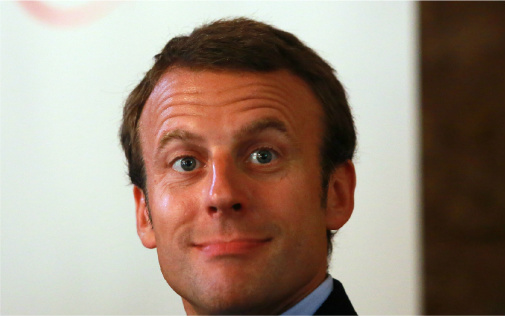 French president Emmanuel Macron has promised to "strike" Syria, but only if evidence emerges that chemical weapons were used against civilians.  And he has admitted that French intelligence agencies have not yet discovered any evidence.
"On chemical weapons, I set a red line and I reaffirm that red line," Macron told reporters in Paris on Tuesday, according to RT.  "If we have proven evidence that chemical weapons proscribed in treaties are used, we will strike the place where they are made."
"Today, our agencies, our armed forces have not established that chemical weapons, as set out in treaties, have been used against the civilian population." Macron added that he's all but threatened Russian president Vladimir Putin with war should his agencies find evidence of chemical weapons uses.  "I've reiterated it to President Putin, asking to make it very clear to the Syrian regime, which has reaffirmed that it does not use chemical weapons … but we are watching it," Macron stated.
Although Macron talks a big game on chemical weapons, he also hasn't taken any action as he awaits proof. "We have some indications of possible chlorine use [in Syria], but we have no absolute confirmation," the French Defense Minister Florence Parly said last Friday. "So we, alongside the others, are working on trying to confirm this, as we clearly have to get the facts straight." But according to the French Foreign Minister, the evidence is mounting the Syrian government, stating using chlorine last week.  "All indications show us today that chlorine is used by the regime right now in Syria," said Parly.
France, a permanent member of the U.N. Security Council, has struggled to wield influence on Syria. Critics who accuse Macron of inaction say he has not given a clear definition of whether use of chlorine would for him constitute a chemical attack.

On Tuesday, the vice-president of the Syria Civil Defence, or "White Helmets", volunteer force said France should stop talking and take real action.

France and the United Nations have repeatedly called in past months for a ceasefire and the opening of aid corridors to alleviate Syria's humanitarian crisis. Russia, Assad's most powerful ally, said last week a ceasefire was not realistic. -Reuters
The Syrian government has repeatedly denied using chemical weapons and said it targets only armed rebels and militants, according to Reuters.  Last week was one of the bloodiest in the Syrian conflict as Syrian government forces, who are backed by Russia and Iran, bombarded two of the last major rebel areas of Syria. Parts of Eastern Ghouta near Damascus and the northwestern province of Idlib were the hardest hit.