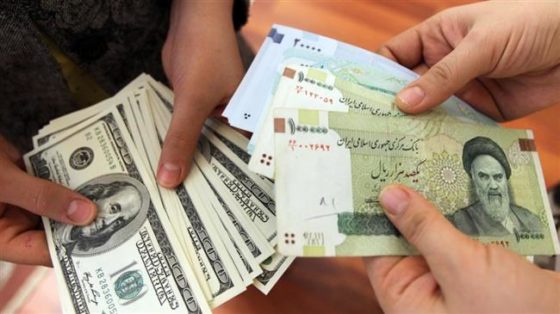 On Sunday Iran's Foreign Minister Mohammad Javad Zarif admitted to the Iran Chamber of Congress that the collapse of the 2015 nuclear deal would have "very dangerous consequences" for the country.  President Donald Trump has withdrawn the United States from the deal he said was disastrous from the beginning.
According to Reuters, the Iranian rial [the currency] plunged to a record low against the United States dollar on the unofficial market on Sunday, continuing its slide amid fears of returning U.S. sanctions after President Donald Trump in May withdrew from a deal on Tehran's nuclear program. The dollar was being offered for as much as 87,000 rials, compared to around 75,500 on Thursday, the last trading day before Iran's weekend, according to foreign exchange website Bonbast.com, which tracks the unofficial market."
Several Iranian media outlets had reported the same news.
Today following to the shocking #Iran's currency devaluation, shopkeepers in the Alaeddin & Chaharsu Bazaars of #Tehran started protest. This might trigger a series of new strikes and protests against #Iran's Islamic Regime across #Iran which will lead to #IranRegimeChange. pic.twitter.com/038BdTbLVn

— Babak Taghvaee – Μπάπακ Τακβαίε – بابک تقوایی (@BabakTaghvaee) June 24, 2018
 Radio Free Europe reported that Zarif told the Iran Chamber of Commerce, "We can talk the deal up, or talk it down. But we should know that a failure of the deal will have very dangerous consequences for us. This is certainly not the [Iranian political] system's choice." Radio Free Europe noted Zarif said the failure of the deal could leave Iran politically isolated.
Trump pulled the US out of the Iran nuclear deal in May, after many warnings and eluding to such prior. Although Iran had vowed "severe consequences" should the US decide to withdraw from the deal, Trump made the decision to do so.
The key reason that President Trump must not only not recertify the Iran nuclear deal but outright abrogate it is because Tehran is explicitly and demonstrably out of compliance with the agreement on numerous specific counts. Further, after the Iranian regime was caught in 2002 operating a clandestine weapons program in violation of the Nuclear Non-Proliferation Treaty — conduct underway for at least 14 years — and has never come clean about that program, it cannot be trusted to adhere to any other agreement. –USA Today
Of course, now reports are coming in that an Iranian currency collapse could mean the Trump is "winning" in Iran as the rial collapses.  But those cheering shouldn't get too excited.  The US is on the course of a dollar collapse of their own making too and the ruling classes never suffer during such collapses, only their tax cattle (civilans) pay the price.