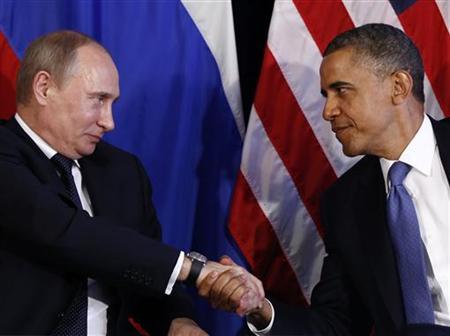 Rumors have circulated for years about the possibility of foreign troops being deployed on U.S. soil in the event of a widespread declaration of a national emergency. For quite some time there have been anecdotal reports to support the claim that the  U.N., Russia and other nations would be used in a policing capacity should some critical event befall our nation.
The fear should such a scenario take place has been that these soldiers would act under the banner of their own flags, ignoring the fundamental protections afforded to our citizens, leaving Americans under the jurisdiction of people who don't speak our language or respect our fundamental rights to self defense, to be secure in our homes, and to be presumed innocent in the eyes of the law.
Up until this point, nothing has ever been confirmed in writing, so officially no such foreign assistance has ever been agreed to. Thus, Americans had nothing to worry about.
All of this changed last week when representatives of Presidents Barrack Obama and Vladimir Putin met in Washington D.C., and not a single US-based news source reported it.
A press release posted on The Ministry of the Russian Federation for Civil Defense and Emergencies reports that the United States and Russia will now cooperate in disaster response operations that will include the exchange of "experts" during "joint rescue operations," a term that has been broadly defined under the new agreement.
This includes rescuers, trainers and even military "security" teams:
Several documents signed during joint work of Russian Emergency Ministry and FEMA

The Russian Emergency Situations Ministry and the USA Federal Emergency Management Agency (FEMA) are going to exchange experts during joint rescue operations in major disasters. This is provided by a protocol of the fourth meeting of the U.S.-Russia Bilateral Presidential Commission Working Group on Emergency Situations and seventeenth meeting of Joint U.S.-Russia Cooperation Committee on Emergency Situations, which took place in Washington on 25 June.

The document provides for expert cooperation in disaster response operations and to study the latest practices.

In addition, the parties approved of U.S.-Russian cooperation in this field in 2013-2014, which envisages exchange of experience including in monitoring and forecasting emergency situations, training of rescuers, development of mine-rescuing and provision of security at mass events.

At the end of the meeting the parties expressed their satisfaction with the level of cooperation between the Russian Federation and the United States in the area of emergency prevention and response and agreed to develop it in order to respond efficiently to all kinds of disasters.

Source: Emergency Command of Russia via Prepper Website
The President of the Unites States has just authorized the U.S. Federal Emergency Management Agency (FEMA) to deploy foreign troops on U.S. soil during a mass event that encompasses an any number of disaster scenarios, including but not limited to declarations of martial law.
Should our country come under threat, something the Pentagon and US military have been simulating for years, we can now fully expect soldiers speaking broken English forcing their way through our front doors in similar fashion to what we saw in the wake of the Boston bombings.