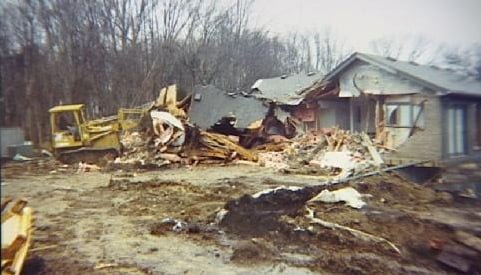 When the bank had Terry Hoskins backed into a corner, he decided to take matters into his own hands – with a bulldozer.
Hoskins said he's been in a struggle with RiverHills Bank over his Clermont County home for nearly a decade, a struggle that was coming to an end as the bank began foreclosure proceedings on his $350,000 home.

"When I see I owe $160,000 on a home valued at $350,000, and someone decides they want to take it – no, I wasn't going to stand for that, so I took it down," Hoskins said.

—

"The average homeowner that can't afford an attorney or can fight as long as we have, they don't stand a chance," he said.

Hoskins said he'd gotten a $170,000 offer from someone to pay off the house, but the bank refused, saying they could get more from selling it in foreclosure.

Hoskins told News 5's Courtis Fuller that he issued the bank an ultimatum.

"I'll tear it down before I let you take it," Hoskins told them.

And that's exactly what Hoskins did.
Most Americans going through foreclosure  probably sympathize with Mr. Hoskins and a good portion probably feel like doing the same thing.
When a friend of a friend recently got a foreclosure notice on a $1 million home in California, they didn't take a bulldozer to it, but they did take the windows, doors, carpet, kitchen sink, toilets and pretty much everything else you could think of. All they left for the bank was a piece of land and an empty shell.
These stories are not unique and it is happening all across America, every day.
And it's only going to get worse.