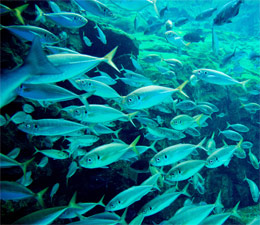 Earlier this week Michael Snyder warned that the bottom of our food chain is going through a catastrophic collapse with sea creatures dying in absolutely massive numbers. The cause of the problem is a mystery to scientists who claim that they can't pinpoint how or why it's happening.
What's worse, the collapse of sea life in the Pacific Ocean isn't something that will affect us several decades into the future. The implications are being seen right now, as evidenced by an emergency closure of fisheries along the West coast this week.
On Wednesday federal regulators announced the early closure of sardine fisheries in California, Oregon and Washington. According to the most recent data, the sardine populations has been wiped out with populations seeing a decline of 91% in just the last eight years.
Meeting outside Santa Rosa, California, the Pacific Fishery Management Council voted to direct NOAA Fisheries Service to halt the current season as early as possible, affecting about 100 fishing boats with sardine permits…

…

The action was taken based on revised estimates of sardine populations, which found the fish were declining in numbers faster than earlier believed…

The council did not take Wednesday's decision lightly and understood the pain the closure would impose on the fishing industry, said council member Michele Culver, representing the Washington Department of Fish and Wildlife. She added that it was necessary because a new assessment of sardine stocks showed they were much lower than estimated last year, when harvest quotas were set.

Source: New York Times via Steve Quayle / ENEnews
Sardines, like honey bees, don't seem important to the casual observer. But just like honey bees, which are experiencing their own colony collapse, they are critical to the propagation of the global food chain. The immediate effects can be seen on the creatures next in line:
… 90 percent of this year's class of sea lion pups were starving for lack of sardines to eat.

"The sardine populations have crashed 91 percent since 2007," he said after the vote. "We would have liked to see this happen much sooner, but now we can start to rebuild this sardine population that is so important to the health of the ocean."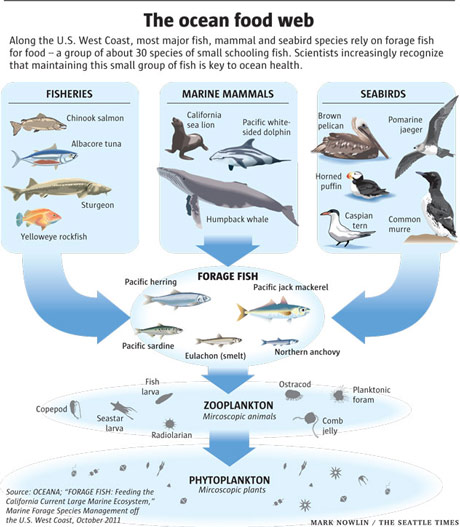 (Courtesy: The Seattle Times)
But even closing of commercial fisheries may not be the solution. As Snyder points out in the aforementioned report, there are some unexplained phenomena occurring in the Pacific ocean and either scientists don't have a clue what is happening, or someone is keeping a gag order on researchers.
According to two University of Washington scientific research papers that were recently released, a 1,000 mile stretch of the Pacific Ocean has warmed up by several degrees, and nobody seems to know why this is happening.  This giant "blob" of warm water was first observed in late 2013, and it is playing havoc with our climate.  And since this giant "blob" first showed up, fish and other sea creatures have been dying in absolutely massive numbers.
The issue could potentially be one of climate change – but not the kind of climate change we hear from politicians who just want to put carbon tax credits in their pocket. Rather, we could be talking about cyclical climate shifts that have occurred regularly throughout the course of earth's history. And with those shifts come massive migrations and species die-offs.
Or, as one contributor at ENEnews.com suggested, the answer to why this is happening should be obvious:
We have three cores melted out of their reactor buildings, lost in the mudrock and sandstone, which we have failed to locate and mitigate.

We have an underground river running under the ruins, which we have failed to divert around the reactors.

We have three empty reactors, containing nothing but corium splatter left when they blew up and melted out.

We have the Pacific Ocean Ecosystem, which we have stressed beyond endurance, through ocean dumping, over fishing, agricultural runoff, and now unrestricted radiation.

We have the sudden collapse of the Pacific Ocean Ecosystem, with a threatened collapse of the biosphere.

We continue to allow corporate and governmental inaction.

What in hell did you think was going to happen?
Something is wrong with world's food chain and one Harvard Professor suggested last year that recent signs, namely with the die-off of honey bee populations, are a prelude of things to come:
But he now warns that a pollinator drop could be the least our worries at this point.

That it may be a sign of things to come – bees acting as the canary in the coalmine. That not only are we connected to bees through our food supply, but that the plight that so afflicts them may very well soon be our own.
Could it be that the collapse of honey bee colonies, mass sea life die-offs, and changing climates in once lush growing regions are all the result of the same underlying phenomena?
If so, then we can soon expect not just higher food prices, but a breakdown in the food chain itself.
And though none of us can truly prepare for a decades' long (or longer) food disaster and the complexities that would come along with it (like mass migrations and resource wars), we can take steps to make ourselves as self sustainable as possible, while also preparing emergency plans to respond to the initial brunt of the force should it hit.
Related Reading:
11 Emergency Food Items That Can Last a Lifetime
Food and Garden Sustainability