Right now, the focus of ShtfPlan.com is to make sure all readers are as UPDATED as possible on the Covid-19 pandemic. Download our EXCLUSIVE report immediately at: http://www.shtfplan.com/virus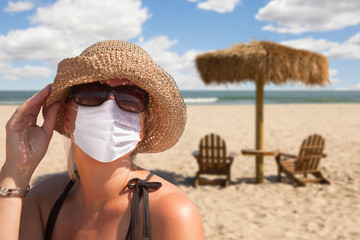 There is no excuse for mandates and tyranny, even during a pandemic. People in Florida are still able to go to the beach even with the coronavirus still spreading.
Freedom of choice is important.  Most people have chosen to self-quarantine as a means to slow the spread of the coronavirus and prevent from getting infected.  While the mainstream media is berating Governor Ron DeSantis for not closing the beaches, we applaud him for not adding to the already increasing totalitarianism being forced on us in the wake of this pandemic.
HOW TO PREPARE YOUR HOME (QUARANTINE) FOR A PANDEMIC
The governor said that local governments can make their own decisions but that his order would follow the latest guidance issued by the Centers for Disease Control and Prevention. He did, however, sign an order preventing the gathering of groups of more than ten people.  "What we're going to be doing for the statewide floor for beaches, we're going to be applying the CDC guidance of no group on a beach more than 10 and you have to have distance apart if you're going to be out there," DeSantis said, according to NBC News.  "So that applies statewide."
Last Minute Quarantine Preps You Can Buy From Home
Clearwater Beach, Florida is PACKED today despite "social distancing" recommendations. https://t.co/WzGydcP1Ja pic.twitter.com/vsRD4QLbhr

— WFLA NEWS (@WFLA) March 16, 2020
The best way to prevent the spread of the coronavirus is to self-quarantine and take precautions to protect yourself and build your immune system.
Best Immune System-Boosting Foods To Get You Through Flu Season
Simple Prepper Hacks To AVOID Getting The Flu
There is only so far freedom-loving and liberty-minded people will be pushed, even in the event of a pandemic. This whole outbreak is likely being used as an excuse to remove what few freedoms we have left and centralize power in the hands of establishment elitists so we can all be permanently enslaved.  How much we allow, is really up to us.
Just like there's nothing the government can do to stop the spread of the coronavirus, we must take responsibility and practice social distancing.  We should be doing this willingly to protect those who may end up getting severely ill or dying as a result of us spreading it to them. But personal responsibility is not popular in the United States right now.  People whine to be told what to do.
The city of Clearwater said Tuesday that it was shutting down Pier 60 and its spring break camps "out of an abundance of caution" but that its shores remain open to the public.
In an abundance of caution amid the COVID-19 outbreak, the city of Clearwater is closing @Pier60ClwBeach bait house and fishing pier.#ClearwaterBeach pic.twitter.com/r5kRKcBtoI

— City of Clearwater, FL (@MyClearwater) March 17, 2020
St. Petersburg Mayor Rick Kriseman on Tuesday reiterated details from DeSantis' order on Twitter, but he did not mention plans to close the beach.
Appreciate @GovRonDeSantis movement on restaurants (50% occupancy similar to our announcement yesterday) and shutdown of bars and clubs for 30 days. Uniformity helps. No congregating on beaches, too. All in interest of public health.

— Rick Kriseman (@Kriseman) March 17, 2020