The following campaign clips from the 1964 Presidential election were as timely then as they are today.
Goldwater warned that America was being heavily influenced by socialism and communism.
What has changed?
Fifty years ago we still had a chance to stop it. Today, we have a Congress plagued by socialists (from both sides of the aisle), and a President who, by all accounts, is an avowed socialist as evidenced by his rhetoric, actions and mentors throughout his university studies, and perhaps as his father was, a committed communist.
We failed to heed Goldwater's warnings for half a century:
That's the great trouble with big, inflationary government. It takes more and more of your earnings. It slowly but surely destroys individual initiative and responsibility. Government must draw its strength from the people, and as it drains away their strength it must inevitably undermine the foundations of self government.

I ask you to join me in  helping to restore the individual freedoms and initiatives this nation once knew. To make government more the servant and not the master of us all. In this free nation, we do not choose to be ruled. We elect to be governed.

…

We see violence in the streets in our cities and suburbs. Graft and corruption in the highest public offices to which we look for leadership. When scandal in local and national government has become so commonplace that many begin to consider it a way of life, then I say that we as a nation are not far from the kind of moral decay that has brought on the fall of other nations and people.

The philosophy of something for nothing, the cult individual and government irresponsibility is an insidious cancer that will destroy us as a people unless we recognize it and root it out now.
In a speech circa 1959 Soviet leader Nikita Khrushchev said:
We will bury you. Your children will be communists.
And, followed up later:
No, you won't accept Communism outright; but we'll keep feeding you small doses of Socialism until you will finally wake up and find that you already have Communism. We won't have to fight you.
Khrushchev wasn't exactly right. We buried ourselves, and destroyed our own economy because of, as Goldwater warned, our philosophy of something for nothing and our lack of responsibility as a nation and individuals.
Look around. Socialism is here, and a large portion – perhaps a majority – of the American people willingly accept it.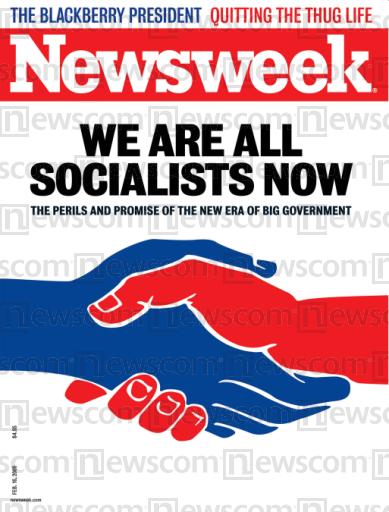 By accepting socialism, whether voluntarily or involuntarily, we may have very well sealed our fate.
Communism is a stone's throw away.
Hat tip John Rolls, Patriots Network