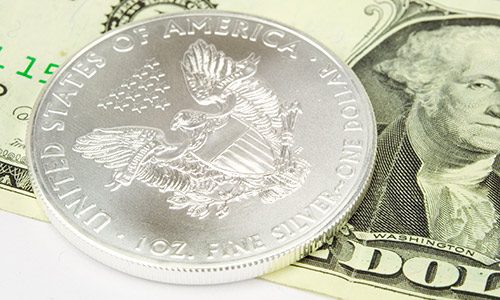 Gold is experiencing a BRILLIANT 2020 thus far, up 14%, and HANDILY BEATING both the traditional stock indices and its LITTLE SISTER, silver.
Because of safe-haven demand, the metal has been a TREMENDOUS VALUE-ADD for parking cash, far superior to fiat currencies and bonds.
I want to stress MY PERSONAL OPINION that the more eccentric central banks become, the more gold's ULTIMATE VALUE will reveal itself.
Its DOOMSDAY worth will be mostly unearthed when the FED's official 2% inflation emerges because that's what the world's investors have ENGRAINED IN MIND as their benchmark for deeming inflation as a problem. Below that, they ignore gold, for the most part.
When the notion that debt restructuring IS REAL, that's when loss of faith in the current system will prove that gold, being that it is without COUNTERPARTY LIABILITY, is the only real safe haven and its value proposition will be strongest at work.
The U.S. economy has peaked for the time being (2-3 years), in our opinion. It will continue to grow steadily, but it needs to find ITS NEW DIRECTION because the age of globalization has certainly peaked.
With the regime change in China in 1978, a country of 1B citizens was standing there full of potential but with NOTHING AT HAND. Special Opportunity Zones emerged in conjunction with the U.S. government and globalization HIT OVERDRIVE.
China is no longer cheap today and Africa is the future of cheap labor pools, but it is a continent that is COMPLETELY different from China.
As an economic tool, globalization will continue to play a pivotal role in corporate profitability, but it won't be the primary driver of thick margins.
The world has evolved and COVID-19 has CHANGED PRIORITIES for multinationals. They now cherish reliability over cost optimization in an uncertain political landscape. America no longer serves as a tailwind for corporate outsourcing.
As you can see above, economic indicators have retraced all the way back to 2014 levels, but they won't BOUNCE RIGHT BACK because the pandemic has changed some businesses for good.
Not only has globalization (which has been the STRONGEST TREND in 40 years for corporate expansion) peaked in popularity, but COVID-19 has proven the MORAL HAZARD THEORY is now set in motion in a big way.
If this is the first time you're hearing this term, get used to it. Just like MMT (Modern Monetary Theory), this one is entering mainstream jargon.
As you can see above, corporations are ISSUING RECORD AMOUNTS of DEBT, taking advantage of government stimulus plans and central bank intervention programs.
While the classic value investors, who have ruled the 20th century, CRY WOLF, a new playbook of investment rules has crept in, which has made it so that Warren Buffett's performance has lagged for years, as well as several other Great Depression-era billionaires.
While they are accustomed to purchasing companies when they trade for CHEAP MULTIPLES in the way that Benjamin Graham taught in the decades that followed the 1929-1932 period, today's investors COUNT ON central banks to disallow collapses and resets, thus they're thinking differently.
I'm working on an EXCLUSIVE REPORT about this that will explain this thoroughly.
When the American consumer regains its footing, Goldman Sachs believes silver will hit $22/ounce, so know that market sentiment towards the recovery metal, the industrial precious metal, is gaining traction.
Expect bombshell reports from us!
EXCLUSIVE REPORTS, Featured In This Article and in Others, Which Are Considered ESSENTIAL READING: