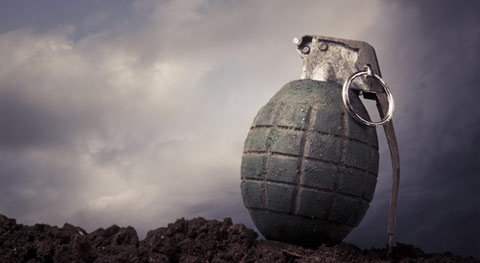 Given the state of affairs around the globe it's no surprise that many people are looking for ways to diversify their wealth into crisis investments. Navigating through the oft manipulated economic and financial numbers can be a daunting task, especially because the world's geo-political climate is a powder keg that's primed to explode at any time.
What we know is that time is not on our side. What we don't know is when the pin will finally get pulled and exactly how events will unfold once it happens.
In an effort to help us guide our outlook and understand the various levels upon which the global chess game is being played we often turn to Marin Katusa, Chief Financial Strategist at the well known research and advisory firm of Casey Research. As Marin notes, there is a lot of risk out there right now, and most people don't see it.
History is replete with examples of people who ignored the early warning signs and bought into the hype, only to be left holding the bag when those on the inside track exited ahead of the collapse. Today is no different and there is no shortage of fools waiting to be parted from their money. Don't be one of them.
Doug and I are firm believers that you're either a contrarian or you're a victim… it's important to understand your own risks and your own time frame of investment… so that's the first thing.
Don't miss the following interview from Future Money Trends, where Marin explores a wide range of strategies designed to protect your wealth and well being.
Right now there are millions of people looking at their stock portfolios, 401k's, and IRA's with a huge smile on their faces. The Dow Jones is at all time highs, after all.
What they don't realize is that they are likely invested in companies that are priced 100 or 500 times their actual earnings. It's a huge risk that has backfired more times than we care to count.
Look at the evaluations, utilities for example. We just published a report in our Energy Report saying what stocks to stay away from. Where a railway is getting 100 times earnings, a railway. That makes absolutely no sense, but it pays a 4% yield, it's pretty safe. So people are over-paying by five times, I would argue even six times, for a 4% yield.

That's how desperate investors are for yield.

But eventually someone's going to get stuck holding this massive bomb on their hands.

So I have to urge all viewers, as I've been doing to my subscribers, to be very careful, have trailing stops, and we've had an unbelievable market here…

The key is to take profits, reduce your risks, mitigate your risks.
Whether your personal approach to preparing for the coming calamity involves structuring your investments in a well diversified global stock portfolio or focuses more on a 'preparedness pantry' portfolio, the information Marin shares is key to understanding what investments to avoid, how to find the diamonds in the rough, and ways to insulate yourself against any number of worst-case scenarios.
The important thing is, as Marin notes, to mitigate your risk. That means watching and understanding the complexities of the global economy, financial markets and investment capital flows, all of which are an essential aspect of the geo-political climate.
If, for example, Russia and China stop investing in America's debt then we may see the dollar collapse. They may simultaneously implement trade restrictions and hold on to their natural resources like oil, gas, uranium and gold. The obvious effect would be a massive spike in not only those resources, but other commodities like food which will skyrocket in tandem.
It is for this reason that trend strategists like Marin Katusa and Doug Casey are accumulating crisis investments such Brazil Resources, precious metals, productive land, and a host of other assets being ignored by the majority of investors who find their "tips" via their favorite mainstream TV channel.
The way to invest in these "crisis assets" depends on your means, capabilities and current portfolio. For some, especially those who have existing stock investments tied to retirement accounts, your choices are limited to either withdrawing your money with heavy penalties or positioning your holdings in advance in such a way that they will benefit when everything else goes under. For others, who shy away from stocks, bonds and currencies, looking to physical assets in these same sectors – food, energy, precious metals – will have similar results.
The strategy to implement now is to avoid what's hot at the company water cooler and invest in assets that will be worth something after this economic bomb detonates.