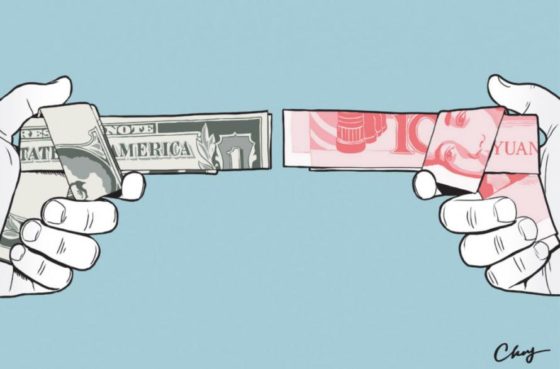 With most of the media in a tailspin over the tensions between the United States and China because of a trade war, many are missing the bigger picture.  Financial experts have been sounding the alarms, but no one appears to want to hear that it isn't possible to win a trade war.
Everyone loses when you use goods as ammunition in an economic war and the idea that the United States can win a trade war is pure foolishness, according to Seeking Alpha.  Tariffs are a form of taxation that ultimately is paid not by the exporter, but by the U.S. consumer. If you want to see who the real victims of tariffs are, go look in the mirror.  Of course, that isn't something those residing in the U.S. want to hear but it is nonetheless necessary to be aware of this fact. Sadly, most analysis of the trade situation does not reflect this hard truth and most have no idea just how hard their wallet could be hit. 
As China and Europe get dragged into a tit-for-tat battle, more and more consumer goods are likely to be targeted, making the effects of tariffs felt much more in the pocketbooks of Americans. We may soon find that the impact of tariffs on our economy will take away many of the benefits of the fiscal stimulus that was passed in last year's tax bill. 
The other glaring concern is that both leaders involved in and leading two powerhouses down a path of economic war don't seem willing to end it anytime soon. With neither the Chinese president nor U.S. president Donald Trump about to blink, this tariff battle could ultimately turn into something much bigger and worse than we imagine. For the time being, Seeking Alpha doesn't see any way for the U.S. is going to back themselves off of the trade cliff of their own making.
This is unfortunate because while the focus on China and automobiles is no accident in the administration's drive to reduce the trade deficit, the effect will be felt across all sectors of the economy.  Take, for example, the Uber driver who needs to buy a new car.  Because the cost of that car has increased and the tariff has been passed onto the Uber driver, there are two options: the driver can make less money overall, or pass that cost onto customers in the form of higher prices for services. It really isn't all that difficult to see that the end user will pay for the tariffs which will get passed on.  Expecting China to pay the tariffs is like expecting the rich to allow their money to be voted away. It just doesn't work that way.
Using tariffs as a policy tool is a game that no one can win. Tariffs on imports from China are not a tax on Chinese citizens, they are a tax on Americans. (So are tariffs on imports from Canada, Mexico, and Europe). Yes, China will export less so it will hurt them too, but the cost of it is being born by citizens in the United States and the cost is a lot larger than the tariffs being threatened on $250 billion of imports from China.

One thing is certain—wars are not fought without cost, and Americans will bear their share of the cost in fighting this war. –Seeking Alpha
The bottom line? No one wins a trade war.