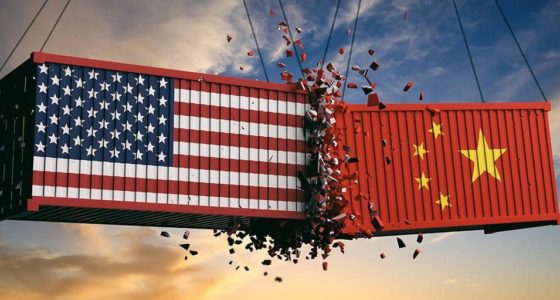 Tariffs are taxes, and like any regulation or tax, the increased cost will get passed onto the consumer.  Although this is common sense, many still don't believe that the trade war had an impact on their financial situation.  However, just last year, Americans (not the Chinese) spent $1.4 billion per month on trade war taxes.
The Trump Administration's trade policies and increased tariffs cost American consumers $1.4 billion a month last year. Not many media outlets were there to tell anyone the honest truth that it's the American public that will pay the tariffs, not the Chinese government.
https://www.shtfplan.com/headline-news/financial-experts-warn-americans-will-pay-the-cost-of-a-trade-war_07182018
Regardless of President Donald Trump's declaration that he is winning the trade war, American farmers and consumers appear to be the casualties. Two separate papers published over the weekend found that the cost of Trump's duties (tariffs, so theft) to the U.S. economy was in the billions and being borne largely by American consumers.  Chinese companies aren't paying the tariffs.  They simply raise their prices and American consumers or businesses shoulder the burden, and it didn't take businesses long to pass on the cost to the consumer. The papers also declared that some of the world's leading trade economists have said Trump's tariffs would be the most consequential trade experiment seen since the 1930 Smoot-Hawley tariffs blamed for worsening the Great Depression.
"This is kind of the worst-case scenario in terms of consumers,'' David Weinstein, who analyzed the data, said in an interview. "It's pretty unclear that this trade war is a net win for the economy at this point.'' According to Time, in a separate paper published on Sunday four economists including Pinelopi Goldberg, the World Bank's chief economist and a former editor-in-chief of the prestigious American Economic Review, put the annual losses from the higher cost of imports alone for the U.S. economy at $68.8 billion, or almost 0.4 percent of gross domestic product.
Goldberg's study also found that consumers and U.S. companies were paying most of the costs of the tariffs. Additionally, after factoring in the retaliation by other countries, the main victims of Trump's trade wars had been farmers and blue-collar workers in areas that supported Trump in the 2016 election.
After accounting for the impact of higher tax (theft) revenue and the higher prices set by domestic producers, the study found the aggregate annual loss for the U.S. economy fell to $6.4 billion, or 0.03 percent of GDP. So increasing taxes doesn't boost the economy? Who knew, other than everyone with two brain cells to rub together.