Editor's Note: To some people, namely politicians, every crisis is an opportunity that needs to be seized. The latest mass shootings are no exception. Last year democrat Senators Feinstein and Boxer, along with countless other representatives nationwide, attempted to pass legislation that would have, in effect, banned the legal ownership of most "assault weapons," also know as semi-automatic firearms to the non-hyperventilative. Their attempts failed and fortunately for Americans so too did President Obama's push to bypass legislation via Executive Orders. But, as you may have guessed, the anti-Second Amendment agenda in America remains in full swing. They couldn't take away your guns directly via legislative action, thus they are turning their efforts to a tried and true method that has been successful throughout history in tyrannical societies: snitches. They want to make sure that if you see something, you say something to authorities. This is especially true if the people on whom you'll be reporting are family members. Because who better to convince a law enforcement officer, judge or government official that someone is crazy than their own family? 
Make no mistake, if such legislation is allowed to pass it'll start with guns but will very quickly spiral into a police state not unlike World War II Germany or Communist Russia, where citizens were routinely outed by their fathers, mothers, brothers, sisters and children for any number of "crimes" against the state or themselves. The lucky ones were sent to the Gulags, often without charge or trial, while others were promptly dispatched and disappeared.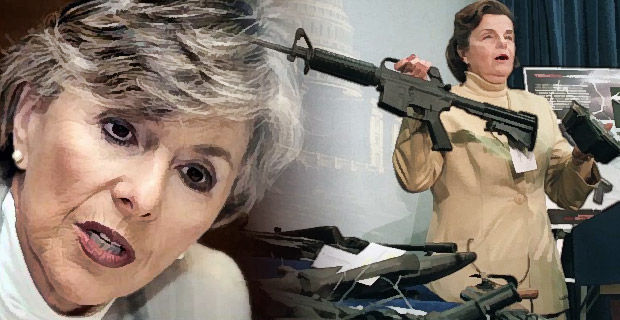 Feinstein and Boxer Introduce Bill to Rat Out A Family Member With A Firearm
By Kurt Nimmo (Infowars)
California Democrat Senators Dianne Feinstein and Barbara Boxer are exploiting the Isla Vista shooting in a new bid to confiscate firearms from American citizens.
The Pause for Safety Act will allow "families and others" to seek a "gun violence prevention order" in court. The order will allow police to confiscate firearms from people who have not committed a crime and may not necessarily pose a threat.
"It is haunting to me that the family of the gunman was desperate to prevent an act of violence and alerted police, but they were still unable to stop this tragedy," Senator Boxer said in a press release posted on her Senate web page. "When the people who know someone best fear there is a threat of violence, they should be able to go to court – with due process for everyone involved – to help prevent a tragedy."
"We must do everything in our power to keep firearms out of the hands of those who pose a serious risk of harm to themselves or to others," Senator Feinstein added. "I'm pleased to work with Senator Boxer on this bill, which creates a new grant program to encourage states to allow family members and others to seek court orders to temporarily prohibit dangerous individuals from possessing a firearm. The bill would allow those who know the most about the condition of someone who poses a risk of committing violence to take steps to remove firearms from that individual's possession."
Prior to his shooting rampage, Elliot Rodger had convinced police he was not a threat to himself or others.
"He apparently had never been either institutionalized or committed for an involuntary hold of any kind, and those are the two triggers that actually would have made him a prohibited person in terms of a firearms purchase," Santa Barbara County Sheriff Bill Brown told CBS News on May 26.