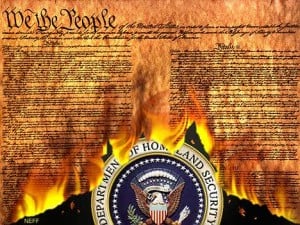 The State of Texas is currently considering legislation that would make it illegal for any official, State or Federal, to perform intrusive searches of persons or personal property without probable cause.
Under Texas Law, HB 1937 would punish, through criminal prosecution, those involved in "official oppression by the intrusive touching of persons seeking access to public buildings and transportation…"
In response, the Federal Government has threatened to essentially enact a no-fly zone over Texas by restricting flights out of the state due to security concerns.
US Attorneys (Federal) object to the legislation and responded directly to the Texas Legislature on May 24, 2011:
May 24, 2011

[On U.S. Department of Justice, Western District of Texas, stationery. Addressed to Speaker Joe Straus, Dewhurst, the House Clerk and the Senate Secretary]

Dear Leaders,

I write with regard to HB 1937, which I understand will imminently be presented to the Texas Senate for a vote.

This office, as well as the Southern, Northern, and Eastern District of Texas United States Attorneys, would like to advise you of the significant leagal and practical problems that will be created if the bill becomes law. As you are no doubt aware, the bill makes it a crime for a federal transportation official ("TSO") to perform the security screening that he or she is authorized and required by federal law to perform. The proposed legislation would make it unlawful for a federal agent such as a TSO to perform certain specified searches for the purpose of granting access to a publicly accessible building or form of transportation. That provision would thus criminalize searches that are required under federal regulations in order to ensure the safety of the American public. The legislation also makes it a crime for a public servant, as defined by the bill, to deny or impede another person in the excercise or enjoyment of any right or privilege, knowing that the public servant's conduct is unlawful. As a result, it appears the intent of the bill is to preclude a TSO from turning away from the secure area of an airport someone who otherwise would have been subjected to a pat down as a condition of entry.

The effect of this bill, if enacted, would be to interfere directly with the Transportation Security Administration's ("TSA") responsibility for civil aviation security. 49 U.S.C. §114(d); 6 U.S.C. §202(1). Congress has directed the Administrator of TSA to take "necessary actions to improve domestic air transportation security," 49 U.S.C. §44904(e), and directed him to "prescribe regulations to protect passengers and property on an aircraft … against an act of criminal violence or aircraft piracy." ID. §44903(b). Congress has directed TSA to provide for "the screening of all passengers and property … before boarding," in order to ensure that no passenger is unlawfully carrying a dangerous weapon, explosive, or other destructive substance. Id. §44901(a), §44901(a), §114(e). If the Administrator determines that "a particular threat cannot be addressed in a way adequate to ensure … the safety of passengers and crew of a particular flight, he "shall cancel the flight or series of flights." Id. §44905(b). HB 1937 would conflict directly with federal law. The practical import of the bill is that it would threaten criminal prosecution of Transportation Security Administration personnel who carry out the security procedures required under federal statutes and TSA regulations passed to implement those statutes. Those officials cannot be put to the choice of risking criminal prosecution or carrying out their federal duties. Under the Supremacy Clause of the United States Constitution, Texas has no authority to regulate federal agents and employees in the performance of their federal duties or to pass a statute that conflicts with federal law.

If HR [sic] 1937 were enacted, the federal government would likely seek an emergency stay of the statute. Unless or until such a stay were granted, TSA would likely be required to cancel any flight or series of flights for which it could not ensure the safety of passengers and crew.

We urge that you consider the ramifications of this bill before casting your vote.

Very truly yours,

[signed]

John E. Murphy
United States Attorney
According to the Tenth Amendment Center, several other states are considering similar legislation to prevent TSA's gross violations of the 4th Amendment, which protects and guarantees the "right of the people to be secure in their persons, houses, papers, and effects, against unreasonable searches and seizures."
Battles over the tenth amendment, which gives States the rights to exercise their own sovereignty over issues not delegated to the Federal government by the Constitution,  are coming to a head across the country – and not just over TSA anti-groping legislation. In recent years 10th amendment arguments and attempts to nullify Federal legislation have included immigration concerns in Southern states, marijuana legalization, firearms freedom, food freedom, and the rejection of Federally mandated universal health care laws.
Regardless of whether we agree with certain arguments made by States with respect to federal legislation or their own, we must wholeheartedly support the right of the people of those states to pass (or reject) legislation that they deem best for their states, even if it is contrary to the beliefs of the people of another state or the Federal government.
References: Tenth Amendment Center,  Lone Star Report, Texas Legislature, Jeff Rense