Now that the election is over, the propaganda media can back off the burying of those critical stories that they couldn't be bothered to report in the lead up to the re-election of President Obama.
What are we talking about?
For starters, the Federal Reserve's recent report, which received nary a comment from the political and financial pundits on television.
While the economy was on the minds of most voters last night, what they didn't know may have very well swung the election to one candidate over another.
And this particular tidbit of data is as important as it gets when we're talking about economic health:
Via SGT Report and The Daily Crux with commentary by Pragmatic Capitalism:

Here's an interesting new data point that the St Louis Fed has put together to calculate recession probabilities:

"Recession probabilities for the United States are obtained from a dynamic-factor markov-switching model applied to four monthly coincident variables: non-farm payroll employment, the index of industrial production, real personal income excluding transfer payments, and real manufacturing and trade sales. "

What's interesting about this index is the current reading. At 20%, the index is at a level that has ALWAYS been followed by a recession. As you can see below, the index has never approached 20% without a subsequent recession. All 6 recessions since 1967 have coincided with 20%+ readings in the US Recession Probabilities index.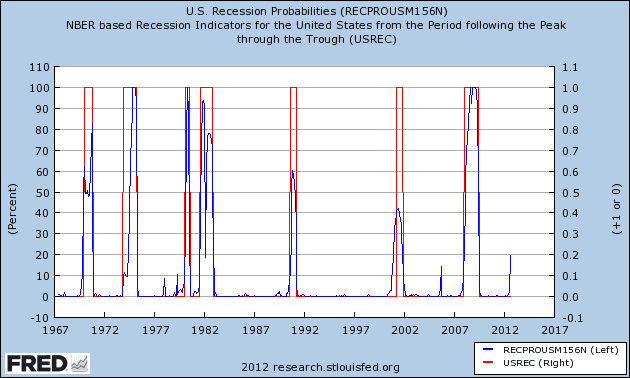 It's no secret that the economy is still hurting. According to this report we are on the verge of another recession within the midst of a broader 'depression.' Contrarian analysts have already suggested this is the case, with many saying we've been in recession since at least summer.
Moreover, if you look at the real numbers behind the numbers, like the rate of real inflation, and bounce those against this purported economic growth you may be surprised to find that we never exited the recession!
Look at the chart below. You see that red line? That's the government's official GDP, a measure for economic growth. The government shows it in positive territory and its been heralded without question by the mainstream machine as the proof for an economic recovery.
Now look at the blue line. That's the unofficial GDP as calculated by economist John Williams using algorithms that account for distortions in the way government calculates inflation.
A recession, as defined by most traditional measures of economics, is a period of two consecutive quarters with negative economic growth.
That's right — this whole time during which millions were losing jobs and homes, and as food stamp usage doubled, we have been in recession. That's over four years now.
But did we really need a report from the Federal Reserve to confirm that for us?
On another (related) note, stock markets are down over 300 points as of  this writing. Apparently Europe is in shambles (again).
It seems this is how financial markets around the world are celebrating the re-election of a President who has presided over the largest cumulative debt increase in the nation's history.
Now that the election is over, we can return to our regularly scheduled programming. .