If you were concerned that food and energy prices were going to drop in coming months, don't worry. If Fed Chairman Ben Bernanke has his way, then the price of commodities should continue to rise for months, and perhaps years, to come.
The Federal Reserve launched a controversial new policy on Wednesday, committing to buy $600 billion more in government bonds by the middle of next year in an attempt to breathe new life into a struggling U.S. economy.

The decision, which takes the Fed into largely uncharted waters, is aimed at further lowering borrowing costs for consumers and businesses still suffering in the aftermath of the worst recession since the Great Depression.

The U.S. central bank said it would buy about $75 billion in longer-term Treasury bonds per month. It said it would regularly review the pace and size of the program and adjust it as needed depending on the path of the recovery.

In its post-meeting statement, the Fed described the economy as "slow", and said employers remained reluctant to add to payrolls. It said measures of inflation were "somewhat low."

source: CNBC
Are we really in the "aftermath" of the recession? Or, has this so-called recovery been nothing but a statistical cover-up? The fact is, if the much touted recovery were real, we wouldn't need more quantitative easing to keep stock markets, home prices and other assets from crashing.
According to Karl Denninger, we're in serious trouble:
In English: To attempt to force prices higher, which already has and will continue to reflect into commodities and thus screw you, the common man, The Fed is now monetizing essentially the entire net issue of Treasury Debt for the next six months.

This is an effective 20% devaluation of the currency beyond that which has already been done.

I hope you like expensive gas, milk, bread, you know – everything you need to buy to live.
According to the Fed's statement, inflation measures are "somewhat low." If this is "somewhat low", we can't wait to see what high inflation means: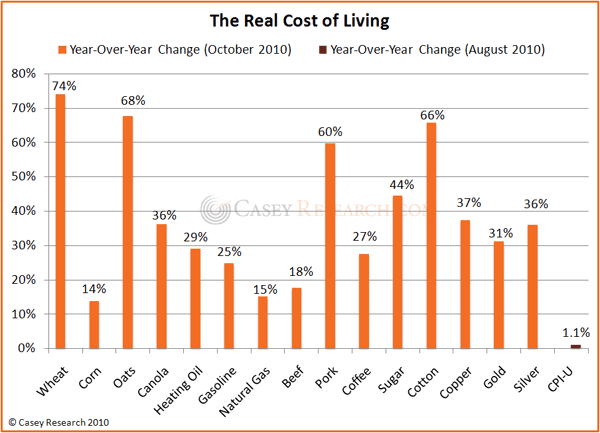 In an effort to "stabilize" home prices and stock markets, the Fed has already committed trillions of dollars in QE. The problem, of course, is that by "stabilizing" these prices at levels that would be unsustainable without intervention, they have caused a significant rise in commodities prices.
What the Federal Reserve must know, but will not admit, is that there is no way to save the economy. It's going to fall apart, one way or the other.
They can either continue printing money ad infinitum, leading to hyperinflation and complete collapse of the US dollar through currency devaluation or debasement, or, they can stop the QE, which will lead to a collapse and total deflationary destruction in asset prices.
If Ben Bernanke, student of the Great Depression, is to be believed, the Fed will attempt to avoid deflation at all costs, suggesting that inflation is the order of the day.
Either way, we're in serious trouble.
If you want to hedge against the coming train wreck, be it hyperinflation or deflationary collapse, we recommend you head down to the local grocery store and invest some of that money you have sitting in your bank account into rice, pinto beans, salt, sugar and any other foods that have a shelf life of 5+ years if stored properly.