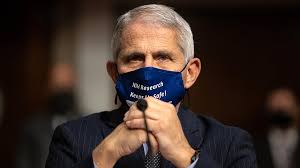 Dr. Anthony Fauci, the United States' head medical tyrant, predicted that COVID-19 vaccines will be available for children over the age of 5 by the first part of November.  That means in a mere two weeks, kids could be getting jabbed with these experimental gene therapy shots.
The Centers for Disease Control and Prevention with give the recommendation for sure and we know the Food and Drug Administration will give the emergency use authorization for kids.  "If all goes well, and we get the regulatory approval, and the recommendation from the CDC, it's entirely possible, if not very likely, that vaccines will be available for children from 5 to 11 within the first week or two of November," Fauci said on ABC's "This Week."
Fauci stressed that it's important not to "get ahead of the FDA and their regulatory decisions," according to a report by the New York Post.  "But if you look at the data that's been made public and announced by the company, the data look good as to the efficacy and the safety," he said. Food and Drug Administration researchers shared in a study released Friday that the vaccine had proven to be highly effective at protecting kids from COVID-19.
"We are hopeful to hear from [the FDA] by the beginning of [the first week of November] and that's when the CDC will have their meeting," Dr. Rochelle Walensky of the CDC said on NBC's "Meet the Press." "And I will be ready to take action if all of that goes smoothly, as soon as possible. In the meantime, the administration is working on the operations and logistics. So, as soon as we have both the FDA authorization and the CDC recommendations, there will be vaccine out there so children can start rolling up their sleeves."
The White House's Plan To "Quickly" Vaccinate 28 Million Children
Governor Schedules 120 COVID Vaccine "Pop-Up Sites" to Target Kids (New York)
It won't be long before the propaganda and coercion to have ones' kids vaccinated starts. Stay alert and be ready. If you have a child in public school, be prepared to make a choice. It will not be easy in the coming months, but they will not slow this down. Stay alert and aware.