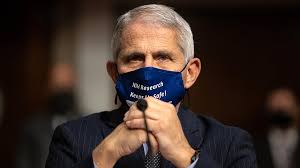 Not only did the rulers expect us to cancel holiday plans, but they now want us to "stay away" from larger New Year's Eve parties.  It seems like anything that gets people gathered together happily is now banned or at least frowned upon by the powers that should not be.
The ruling class has begun their fear campaign against those who are refusing to be injected with an experimental gene therapy drug. Dr. Anthony Fauci warned people to avoid attending large New Year's Eve parties where they don't know if all the guests have been vaccinated against COVID-19.
"When you are talking about a New Year's Eve party, where you have 30, 40, 50 people celebrating, you do not know the status of the vaccination — I would recommend strongly, stay away from that this year," Fauci told CNN's New Day on Monday. "There will be other years to do that, but not this year."
Dr. Anthony Fauci says he recommends that people "stay away" from large New Year's Eve gatherings where they don't know the vaccination status of guests.

"There will be other years to do that, but not this year," he says.https://t.co/X6u5qGcrbn pic.twitter.com/5eaEpVfWhd

— New Day (@NewDay) December 27, 2021
Except:
Most Omicron Cases Hit The Fully Vaccinated
But Fauci, the head of the National Institute of Allergy and Infectious Diseases medical tyranny in the U.S., said that people who are vaccinated and boosted can gather with close family with minimal risk if their loved ones are also vaccinated and boosted. But that doesn't stop the coronavirus from spreading either:
US Navy Warship Pauses Deployment After COVID-19 Outbreak Among '100 Percent Immunized' Crew
And yet, the push to vaccinate everyone with these shots that obviously are not working in the way they promised they would, is still ramping up to new and tyrannical levels. This is beginning like Germany's genocide of the Jews. It starts with turning the public against a group of people. In this case, it's those who continue to defy their master's commands.
This push to vaccinate everyone won't stop here. It didn't slow over this holiday season, and it's only going to get worse and these sociopaths try to righten their grip on power. They don't want anyone to have fun, so enjoy life in spite of them.