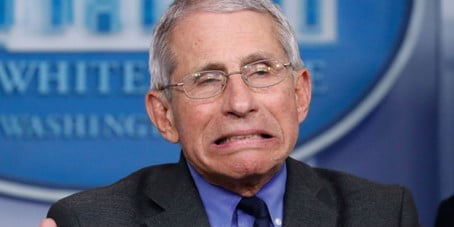 Even as cases fall dramatically and people continue to take the experimental gene therapy jab, head medical tyrant Dr. Anthony Fauci has warned that we should all still be afraid.  We shouldn't "declare victory," he said.
We know these tyrants want us to stay in a constant state of panic-induced fear and will do anything to get people so terrified that they line up a disastrous injection they use propaganda to convince the already brainwashed masses to do whatever they want.
"We don't want to declare victory prematurely because we still have a ways to go," Fauci told the Guardian in an interview. "But the more and more people that can get vaccinated, as a community, the community will be safer and safer."
The Memorial Holiday weekend marks the unofficial start of summer in the United States, and for at least 50% of the adult population that is fully vaccinated, it could usher in a season of maskless barbecues and trips to the beach, writes the Guardian. But if you don't want to take the shot they want you muzzled until you comply.
Fauci is known for his flip-flopping on all issues surrounding the COVID-19 scamdemic, including the ritualistic shame muzzle, the ineffective "vaccine" that's really a gene therapy, and what rules other humans should have to obey that he invents arbitrarily.
This guy is probably laughing at us daily because far too many haven't figured it out yet. Even according to the ruling class's own data, COVID was never a concern, let alone a pandemic.
Daily coronavirus cases have dropped 53% since 1 May, according to Johns Hopkins University data, but the rates are still high in the unvaccinated population and cases are growing globally. Already there have been more global cases in 2021 than in all of 2020, according to Johns Hopkins University data. –The Guardian
But now they have the good ole "fear the variant" narrative going.
"As long as there is some degree of activity throughout the world, there's always a danger of variants emerging and diminishing somewhat the effectiveness of our vaccines," said Fauci, director of the National Institute of Allergy and Infectious Diseases (Niaid).
So the rulers still need you to turn our your critical thinking, and line up like the tax cattle we are and just take the shot. In fact, they will make it easy on you.
"Today, in our current day, the accessibility and the convenience of getting a vaccine is really rather striking," Fauci said. And the mainstream media will push out the constant propaganda to convince all the holdouts:
But until the overwhelming majority of Americans have been vaccinated, the Covid-19 risk is still high in the US.

As of Friday, 59.1% of Americans 12 and older had received their first dose of the vaccine and 47.4% were fully vaccinated, according to the Centers for Disease Control and Prevention(CDC). –The Guardian
You all know what I'm going to say. Don't turn off your critical thinking. Keep asking questions even if others poke fun or ridicule. It's about the best skill we can employ during these times of universal deciet.