This article was contributed by James Davis with Future Money Trends.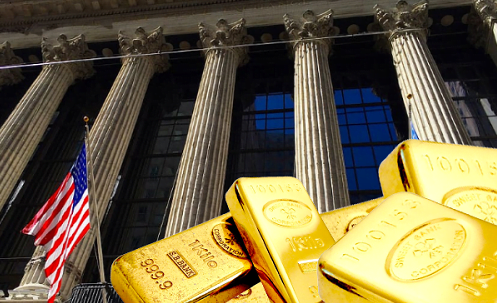 Goldman Sachs actually told its high-net-worth clients that it is a perfect time to EXPLOIT MADNESS exhibited by part-time retail investors and to CRUSH THEM. I've seen some REMARKABLE TESTIMONIES on how the average person decides on which stocks to buy and why.
One thing that really SUNK HOME the point of just how wild things have gotten is shown by a survey conducted with people who normally bet on sporting events. They say they have been buying stocks AS A REPLACEMENT, out of boredom.
The second SHOCKING STUDY has proved there's a correlation between day trading and social media chat rooms about gambling.
You can clearly see the correlation between the Great Depression ending, real wealth creation and prosperity spreading when America produced real products in the 1940s–1970s, and the REVERSAL IN THESE TRENDS when globalists HIJACKED the opportunity from the middle class and incentivized Special Opportunity Zones in China to GAIN MOMENTUM at the expense of many UNSUSPECTING PEOPLE!
Between 1937 and 1982, America's middle class boomed and capitalism included many more people. That totally changed in 1982 and has intensified until present day.
Big trends either EAT YOU WHOLE or change your life FOR GOOD. In the case of globalization and outsourcing, the trend ate up workers and gave shareholders and executives an INCOME BOOM.
The most destructive UNINTENDED CONSEQUENCE of the income and wealth gap is ACCESS TO HIGHER EDUCATION.
Because tuition is so expensive, the chance that low-income demographics have to become doctors or medical professionals (which are America's HIGHEST EARNERS as employees) or to assume major roles in Silicon Valley and tech, ARE SUPER LOW.
This perpetuates the gap, ushers NEW WINDS of populism into politics, and INSTIGATES SOCIAL UNREST. When you believe you have no chance of ever becoming FINANCIALLY SOLVENT and that debt will follow you around for the rest of your life, it sometimes leads to INVESTMENT INDIFFERENCE. One loses respect for money and gambles with it, whether on sporting events, Las Vegas, card games, or through Wall Street. You become angry over the topic of money and its fairness and distribution.
It's unfortunate, but I can empathize with them since it is DEPRESSING to feel stuck!
You can really see how the income for the top 1% WENT EXPONENTIAL in the mid-1980s.
The great equity BULL MARKET started in 1982, and that has led to this surge in income growth for the elite.
The majority of Americans is not BENEFITING FROM the growth of their corporations since the ownership is concentrated in high-net-worth individuals.
The fatal kryptonite of the masses is their LACK OF CONNECTION with the growing industries in America that require SPECIALIZED SKILLS, the type that the poor can't even begin to imagine how to acquire!
The cheap labor pool offered by other countries around the world makes it so that America is too expensive to go back to being a leading manufacturing hub, but also too untrained to include more households in the tech boom.
This great drama will drive politics, society, and industry to find solutions, but YOU CAN'T wait for it to do so since life is too precious to leave to someone else.
You must work days and nights on DEVELOPING yourself, on educating yourself, and on improving your skills. Open the doors for yourself; there is NO OTHER WAY!
EXCLUSIVE REPORTS, Featured In This Article and in Others, Which Are Considered ESSENTIAL READING: