This article was originally published by Matt Agorist at The Free Thought Project.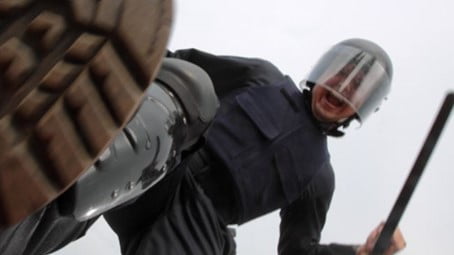 There is no question that 2020 was one of the most difficult years in American history. As the government shut down the economy, driving unemployment to record levels and forcing businesses to close their doors forever, tens of millions of Americans found themselves in dire straits.
To deal with the unprecedented hard times, some folks like Tim Leslie and his family began to get creative, buying property and homesteading. However, because the land of the free is is but a fleeting myth in this country, government officials did all they could to thwart it.
Last year, Leslie lost his job. With no other options in mind, he bought a plot of land in Polk County, parked an RV on it, and began to live off the land. On the property, Leslie has chickens, goats, and a vegetable garden for his wife and their two kids, 9-year-old Knox and 18-month-old Daisy.
"We plan on building a forever home here and, you know, growing old and giving it to our kids," Leslie told WSB-TV.
After he was fired, Leslie took his life savings — draining his pension and 401(k) — and bought the property in Polk County. The purchase took place in November of 2020.
The family's dreams of homesteading on their own property came to a grinding halt, however, and has morphed into a nightmare thanks to the intrusive and utterly cruel nature of the state.
Leslie and his family are no longer living on their own property and are instead living in an RV park because county officials forced them to move. The county issued the family a steep fine and then ordered them to move or face arrest and have his property stolen — because living on your own property in an RV is "illegal."
"Before I could go to court, they showed up at my property, the building inspector and the code enforcement officer, and told me that I had to be off my land or they were going to seize my vehicles and my assets," Leslie told Choi.
This move is especially insidious for two reasons. The first reason is obvious; Leslie and his family own the property and no one should be able to tell him what to do on it — especially due to the fact they are a struggling family during unprecedented times in a pandemic.
The second reason is that Leslie checked the law before making these moves and he is following it.
According to WSB-TV, Leslie says he checked the county codes before buying the land. He showed them the section that allows for "single-family dwellings" in an agricultural district, under which his property is designated. Under the county's definition for "dwellings", it specifically includes "manufactured homes, mobile homes, industrialized buildings, and recreational vehicles."
"It showed that we could have our animals here and be in our camper temporarily. So that's the reason we moved out," Leslie said.
Despite following the law as stated above, Leslie's citation is for "living in campers/RV."
"This is a question about property rights," said attorney Ari Bargil with the Institute for Justice. "Mr. Leslie owns the property on which he situated his camper. And as a result, he has the right to live there, as long as he's not harming anybody through his use."
One would think that the media coverage on the case, coupled with the egregious nature of kicking a family off their own property for trying to survive during a pandemic, would make officials rethink their move. However, one would be wrong.
According to WSB-TV, the county manager, the police chief, and the county commission chair all refused to comment on the case but Polk County police chief Kenny Dodd had no problem standing behind the move.
In an email to the news station, Dodd cited several codes for kicking the family off their own property, extorting them, and threatening to steal their property.
According to WSB-TV, one states, "temporary buildings and trailers shall not be allowed in any district except when utilized for construction site contracting work."
Another requires that "single-family dwellings contain 12-hundred square feet minimum."
Chief Dodd also referenced section 700.03, which lists the purpose of the codes to include "aesthetic values of land and property," WSB-TV reported.
But constitutional experts disagree. Bargil pointed out that there is no legitimate basis for them to kick the family from their property.
"There is nothing that says that he can or cannot have a camper on his property," Bargil said. "They're trying to compile this mishmash of ordinance applications in order to be able to say you can't do this. But the reality is that this is a unique use of property. It's one that's not contemplated by the city's ordinances. And for that reason alone, it should be allowed, at least temporarily."
Now, the family's move to become more sustainable is costing them money and livestock. Since they are not there to look after the land at night, coyotes are poaching their animals.
The fact that the government is doing this to an innocent family for attempting to live a sustainable life on their own property is tyrannical. However, the fact that they are doing it when millions of people are unemployed and on the verge of starvation, makes this especially insidious.
"People are struggling financially. I think it's important that cities allow people some leeway so that they can figure out creative ways for them to be able to make ends meet, and to get by until they're able to get back up on their feet," Bargil said.
We agree.
For now, the Leslie family is waiting for a court date to appeal their case and attempt to get back their property. Hopefully, they are successful as anything else would be sheer despotism.