This report was originally filed at ZeroHedge.com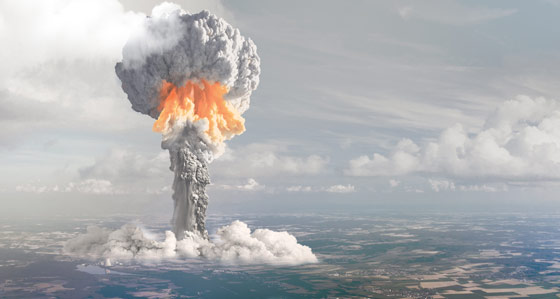 As expected – and feared – during the annual "Day of the Sun" celebration parade (celebrating the birth of the nation's founder), Bloomberg blasted a headline that Chinese news agency Xinhua reported that North Korea has fired a projectile.
NORTH KOREA FIRES PROJECTILE, MEDIA SAYS: XINHUA
On its website, Bloomberg immediately picked up the story, and ran with "North Korea Fires Projectile Media, Says Xinhua" (at a url which still reads: "https://www.bloomberg.com/news/articles/2017-04-15/north-korea-fires-projectile-media-says-xinhua")
However, it appears that the headline scanning algos made a colossal error, and that Xinhua interpreted events quite incorrectly as it was, as CBC and Reuters reports, the appearance of a new submarine-launched missile at the parade for the first time:

NORTH KOREA SUBMARINE-LAUNCHED BALLISTIC MISSILE SEEN AT MILITARY PARADE FOR FIRST TIME: RTRS
North Korea displayed its submarine-launched ballistic missiles (SLBM) for the first time on Saturday ahead of a massive military parade in the capital, Pyongyang.
State TV showed images of the Pukkuksong-2 SLBMs on trucks waiting to be paraded in front of leader Kim Jong-un.
Immediately after, Xinhua – and Bloomberg – rushed to issue a clarification to avoid what may be a military confrontation.
XINHUA CLARIFIES HEADLINE ON NORTH KOREAN MISSILE
N.KOREA DISPLAYS BALLISTIC MISSILE AT MILITARY PARADE: XINHUA
As a result, the BBG headline – with a URL that still says that "North Korea fires a projectile" – now reads the following:
And that's how World War 3 almost occurred.
As CNN reports, a military parade in the heart of Pyongyang is underway where it's expected the North Korean regime will show off some of its latest arsenal. Pictures on state television showed thousands of soldiers marching in formation alongside tanks, balloons and enormous crowds. Leader Kim Jong Un was shown clapping and smiling from a reviewing box.
At one point, the soldiers directed a chant toward him. "We will die for you!" they yelled, CNN's Will Ripley, who was at the event, reported. For North Koreans, April 15 is an auspicious date that sees millions celebrate the birth of the nation's founder.