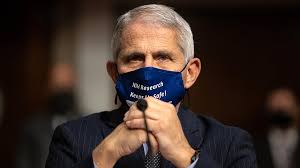 Head medical tyrant, Dr. Anthony Fauci, says that human beings should have to show their papers now that the fourth Reich has risen, before being able to board an airplane.  And the White House is looking at a "vaccine" mandate for domestic air travel.
Fauci did say he still wants Sleepy Creepy Uncle Joe to be the one to make the mandate. He won't be enforcing it, however. "I am not going to get ahead of the President," Fauci said during an appearance on MSNBC. "I told others when they asked, and I will repeat it for you, that it is on the table and under consideration. There are going to be a lot of factors going into that. I have expressed that I would be in favor of that if the President decides to do that and if the individuals involved in advising him are in favor of doing that, I would be in favor of doing that."
He said the mandate could come as early as this fall or winter. "We haven't taken options off the table, but I don't have any updates to share with you at this point," White press secretary Jen Psaki said on Thursday, according to a report by Newsweek.  "Our focus is on the implementation of the big steps we announced last week."
"It's something we continue to look at," White Chief of Staff Ron Klain said during a recent appearance on Pod Save America. "We want to kind of weigh the number of people that these requirements could vaccinate versus the burden on the vaccinated, having to show proof every time you go on to an airplane, having to wait on longer lines at TSA [Transportation Security Administration]. But I think it's something we'll look at as we continue to progress."
Already, those who choose to fly are required to wear face masks (ritualistic shame muzzles) until 2022. The fear-mongering will never end. The ruling is weighing how many people they can coerce into taking the vaccine if they make it mandatory for air travel.
They have concluded that mandates will coerce more to into taking it if it's for something "permanent" like employment.
This is sinister at this point. Stay prepared and alert. This ends when enough of us say it does. Until then, keep preparing.