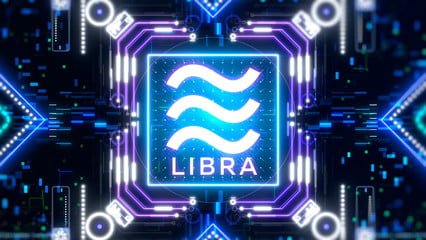 Those skeptical of Facebook's creation of their own cryptocurrency have every right to be.  The new cryptocurrency, which has been named Libra, has been unveiled, and it's a dangerous and invasive form of surveillance in the hands of a company known for its privacy concerns and censorship.
Experts have branded the move a dangerous power grab that marks Facebook's "most invasive" form of surveillance yet. So far, Facebook has enlisted 28 firms, including Spotify and Uber, who each had to invest a minimum of $1o million to be a founding member of the Libra Association, an independent not-for-profit membership organization.
But this will be a hard sell for a company who is determined to silence voices and sell private data to advertisers for a profit. There is no company that should be trusted less than Facebook, other than perhaps Twitter. The unveiling of the Libra cryptocurrency comes just over a year after the Cambridge Analytica scandal, which saw the private data of millions of Facebook users manipulated for the purpose of political profiling. Since then, the social network has been plagued by a series of privacy scandals that have continuously called into question the way Facebook handles its users' data. Facebook's decision to branch out into this area could potentially open its users up to risks far beyond the privacy scandals of the past.
According to The Independent, Libra is positioning itself as a new global currency that could take on mainstream currencies like the United States dollar, as well as traditional financial institutions. That will already be difficult to do since Facebook needs your dollars to give you some Libra. In fact, Libra is a fiat currency backed coin. (Try not to laugh at how ridiculous that is!) It's backed by the U.S. dollar, which is backed by literally nothing, and government bonds, one of the worst investments of all time.
If you are already concerned about Facebook prying into your life, we suggest avoiding Libra at all costs. "If you're concerned with Facebook knowing too much or having too much access to your private data, Libra will give Facebook even more direct access to your financial information," said Phil Chen, a cryptocurrency expert who pioneered HTC's first blockchain smartphone. "It's not just access to the information of your transactions, it's direct access to your wealth and capital. If the top-line question about Facebook and antitrust is about whether to break it up and spin off the likes of WhatsApp and Instagram – well Libra is the most invasive and dangerous form of surveillance they have designed thus far. This will easily become the most dangerous antitrust case in history."
Although there are few, advocates say Libra will help the 1.7 billion people around the world who don't have access to basic financial services; aka, the "underbanked."  George McDonaugh, the co-founder of blockchain investment firm KR1, says that the new currency is all about collecting more valuable information from people. "Let's cut to the chase, Facebook – and Libra's supporting corporations – are doing this for one reason and that's data. It will be spun as banking the unbanked, revolutionizing payments and connecting the world, but don't be fooled. This move into the murky world of cryptocurrency is about tapping new wells of data, the modern day oil," he said. "No doubt there'll be plenty of assertions over privacy protection and 'decentralized' hand waving, but this is all about Facebook enriching their reservoirs of data, knowing who you are, what you're buying, who you're paying and how much you have."
And the cryptocurrency will be the most centralized and controlled cryptocurrency to date. Normally the whole point is to remove interference in transactions and make them anonymous to protect your privacy and data.  Libra will do none of that and all the information collected will go right into Facebook's hands.