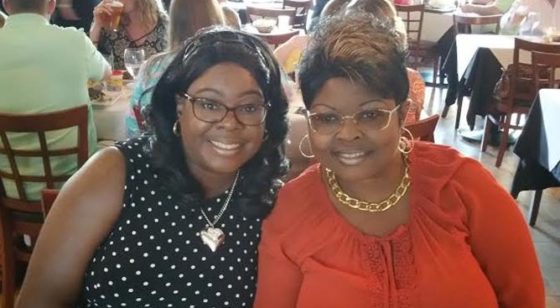 Facebook is continuing and even ramping up their censorship campaign after coming under fire for not protecting the privacy and data of their users. Now, the social media giant has declared Donald Trump supporters Diamond and Silk "unsafe to the community."
In a post on their Facebook page, Diamond and Silk, an internet commentating duo that became popular during the 2016 election for their vocal support of President Trump, stated that after much deliberation, Facebook has deemed their content and videos "unsafe to the community." According to Breitbart, the post on the duo's page reads;
"Diamond And Silk have been corresponding since September 7, 2017, with Facebook (owned by Mark Zuckerberg), about their bias censorship and discrimination against D&S brand page."

Finally after several emails, chats, phone calls, appeals, beating around the bush, lies, and giving us the run around, Facebook gave us another bogus reason why Millions of people who have liked and/or followed our page no longer receives notification and why our page, post and video reach was reduced by a very large percentage.

Here is the reply from Facebook. Thu, Apr 5, 2018 at 3:40 PM: 'The Policy team has came to the conclusion that your content and your brand has been determined unsafe to the community.'

Yep, this was FB conclusion after 6 Months, 29 days, 5 hrs, 40 minutes and 43 seconds. Oh and guess what else Facebook said: "This decision is final and it is not appeal-able in any way." (Note: This is the exact wording that FB emailed to us.)
Although all we've got is the word of the duo, Facebook has been trampling the rights of free speech by limiting post reach and censoring those whose opinion is not wholly aligned with that of the left-wing zealot, Mark Zuckerberg, making Diamond and Silk a lot more trustworthy than the social media outlet.
Diamond and Silk then posed multiple questions to Facebook and specifically the company's CEO Mark Zuckerberg trying to get to the bottom of the issue. The questions are:
1. What is unsafe about two Black-women supporting the President Donald J. Trump?
2. Our FB page has been created since December 2014, when exactly did the content and the brand become unsafe to the community?
3. When you say "community" are you referring to the Millions who liked and followed our page?
4. What content on our page was in violation?
5. If our content and brand was so unsafe to the community, why is the option for us to boost our content and spend money with FB to enhance our brand page still available? Maybe FB should give us a refund since FB censored our reach.
6. Lastly, didn't FB violate their own policy when FB stopped sending notifications to the Millions of people who liked and followed our brand page?
Diamond and Silk aren't taking their censorship lying down either. Much like Mike Adams, The Health Ranger, the duo is fighting back peacefully. Unfortunately, left-leaning bias is deeply ingrained and until we can break more of the population free and actually set their minds free, we will be stuck peacefully fighting those who wish to enslave us via censorship. 
As with Adams when YouTube deleted all of his videos, we stand with Diamond and Silk. Not because we agree with everything they say, but because they have a basic human right to speak their minds and fight back against those wishing to silence them.