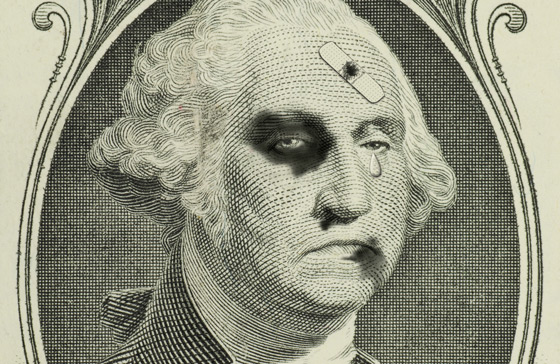 Over the last couple of years major social media, news and video platforms have been actively engaged in the censorship of what they believe to be fake news and information. Often spearheaded by third-party review organizations known to have biased views, there have been countless examples of unpopular speech and commentary that has seen its distribution suppressed or outright banned.
While there is most certainly a human element involved in the review and flagging of information, mega Silicon Valley conglomerates have also implemented automated systems to identify potentially hateful and repulsive content.
To give you an idea of the kind of automation in play and what words and ideas are being identified as running contrary to the principles of media aggregators and distributors, consider that Facebook recently banned America's founding document from being posted.
Since June 24, the Liberty County Vindicator of Liberty County, Texas, has been sharing daily excerpts from the declaration in the run up to July Fourth. The idea was to encourage historical literacy among the Vindicator's readers.

The first nine such posts of the project went up without incident.

"But part 10," writesVindicator managing editor Casey Stinnett, "did not appear. Instead, The Vindicator received a notice from Facebook saying that the post 'goes against our standards on hate speech.'"

The post in question contained paragraphs 27 through 31 of the Declaration of Independence, the grievance section of the document wherein the put-upon colonists detail all the irreconcilable differences they have with King George III.

Stinnett says that he cannot be sure which exact grievance ran afoul of Facebook's policy, but he assumes that it's paragraph 31, which excoriates the King for inciting "domestic insurrections amongst us, and has endeavored to bring on the inhabitants of our frontiers, the merciless Indian Savages."

The removal of the post was an automated action, and Stinnett sent a "feedback message" to Facebook with the hopes of reaching a human being who could then exempt the Declaration of Independence from its hate speech restrictions.

 Source: Reason.com
The Vindicator took a screenshot of the post's removal: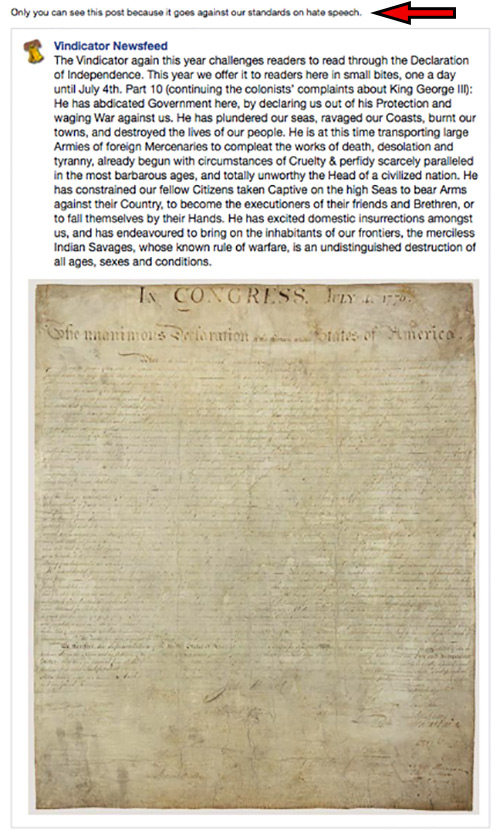 According to the Vindicator, the post was eventually restored after it was manually reviewed.