This report was originally published by Shepard Ambellas at Intellihub.com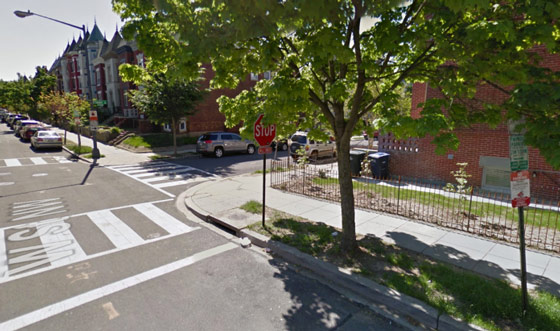 The Washington D.C. corner Seth Rich was shot on (Via Google Street View)
A man claiming to be Mark Mueller, Seth Rich's neighbor, who may also be going by the alias Scott Roberts, was at the scene when Rich was shot on July 10, 2016, and was listed in the police report.
Interestingly enough, the eyewitness made a few shocking statements at a vigil for the late Democratic National Committee staffer where Debbie Wasserman Schultz was also in attendance, which were captured on video.
"I was there when he [Seth Rich] got shot and uh they walked him past me so that I could see him and identify him because I knew him in the neighborhood — and the police officer said: 'he didn't even know he was shot'," the eyewitness said.
The eyewitnesses testimony begins at 6:29 into the video.
A timeline of Seth Rich related tweets and retweets by Twitter user "@ScottRobertsDC" starting the day Rich was shot as follows:
Alert: SHOOTING at 0419 hrs in the 2100 block of Flagler Pl., NW. No lookout at this time//6802 pic.twitter.com/C6CMV2uB1p

— DC Police Department (@DCPoliceDept) July 10, 2016
Shooting: Flagler & W St,1 victim in hospital @DCPoliceDept investigating- no arrests @CM_McDuffie @TJQ23 @BloomingdaleCA @ScottRobertsDC

— RobertVinsonBrannum (@robert158) July 10, 2016
Flagler & W St shooting update (this update is from a neighbor, not @DCPoliceDept): victim has died https://t.co/xxhAT7onLp #BloomingdaleDC

— Scott Roberts (@ScottRobertsDC) July 10, 2016
2016 #DC Homicide # 68: Seth Conrad Rich, 27, male, 7/10/16; #Shooting; #Ward5 #BloomingdaleDC @ANC5E @BloomingdaleDC @ScottRobertsDC @TJQ23

— DC Homicide Info (@DCHomicideCount) July 11, 2016
Intellihub has reached out to the witness for his comment on the matter.
Via Intellihub
Shepard Ambellas is an opinion journalist, analyst, and the founder and editor-in-chief of Intellihub News & Politics (Intellihub.com). Shepard is also known for producing Shade: The Motion Picture (2013) and appearing on Travel Channel's America Declassified (2013). Shepard is a regular contributor to Infowars. Read more from Shep's World. Get the Podcast. Follow Shep on Facebook and Twitter.