Leading physics professor Michio Kaku, of the City University of New York, has signaled a warning concerning the polar vortex now bringing extreme cold weather to a majority of states in the U.S.
"Superstorm Nuri packs more energy than Hurricane Sandy. It's headed our way, and we are in the bullseye. This weekend it's going to plow into Alaska, creating fifty foot waves. Then, by midweek, all hell breaks loose. It's going to combine with the jetstream, pushing arctic air perhaps as low as Florida," Michio Kaku told CBS News.
"In the worst case scenario, it could mean a deep freeze. It means airlines canceling flights left and right. It means transportation being disrupted… we're talking disruption that will peak between November 13 and November 15, but will ripple through the rest of November," Kaku added, telling viewers to "get used to" polar vortexes, because "the earth is changing, and we're going to see more violent swings."
Northern states are expected to experience extreme lows that could reach -30 Fahrenheit and beyond, while early bouts of extreme cold will affect nearly the entire U.S., dipping between 15 and 30 degrees below normal.
It will bring snowstorms and heavy rains across the much of Northern United States and Canada, and heavy rains, particularly in the East.
The Weather Channel's Tom Niziol cautioned, "It's early in the season, but we are poised for a pure Arctic outbreak."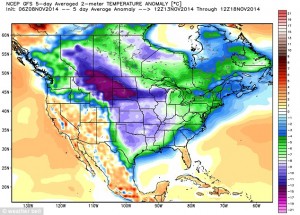 While several credible weather watchers have linked this polar vortex to weather manipulation – which Kaku himself admits is different from last year's – investigative reporter Shephard Ambellas has also linked it with several curiously timed events that may prove to be play into a disaster-recovery agenda:
However, all of this may dovetail into a massive FEMA drill already set to take place on Nov. 13, in FEMA Region II, as reported by Intellihub.com.

Furthermore the Washington Post reported, "Hackers from China breached the federal weather network recently, forcing cybersecurity teams to seal off data vital to disaster planning, aviation, shipping and scores of other crucial uses" possibly coinciding with the plan.
Hurricane Sandy certainly proved to be a massive weather event with even bigger political and power ramifications, that included massive property damage, tens of thousands of destroyed homes and severe disruption to the power grid, gasoline fuel and natural gas for heating. FEMA is still dealing with the aftermath of destruction that affected millions and totaled $1.1 billion just in federal allocated dollars, and another $3.2 billion in National Flood Insurance Program payments, along with several hundred million in other related costs.
There are some important ways that you can prepare your home and family for extreme winter weather
, as well as possible electricity outages or gas and food shortages.
Below are some detailed steps on how to insulate your body, particularly for any extended outdoors activity, and also to insulate your home. In particular, there are several ways to winterize your abode for even the most insane winter weather, while taking some commons sense steps to preparing for alternative energy supplies, power outages and potentially life threatening circumstances.
Insulating the Home

Light some candles. Burning candles can add some much needed warmth to a small area. And if you want to make the most of heat emitted from a candle, try making a space heater from a candle. This handy device collects, retains, concentrates, and radiates dry space heat from a candle.
Sealing off a room or a smaller area to heat by using a folded quilt at the bottom to better insulate the room. You can also hang heavy quilts in the doorways of rooms with a heat source to block them off from the rest of the house. Ensure that you seal any drafts coming from windows in the room as well.
To prevent heat from escaping from the fireplace when it's not in use purchase a Fireplace plug. It is an inflatable pillow that seals the fireplace damper, eliminating drafts, odors, and noise. The pillow is removed whenever the fireplace is used, then reinserted after.
Insulate your windows. Rubber weather sealant and/or window insulation film can also keep drafts at a minimum.
You can also use a plastic shower curtain or bubble wrap and duct tape, topped by a heavy quilt to keep the wind from whistling through your windows. This has the added benefit of keeping the windows dark if you are concerned about OPSEC (Operational Security). Another option is to purchase a draft door dodger or make your own. (The instructions for this are in the "Stats and Facts" section of this newsletter.) Layers of curtains made of heavy fabrics can also keep a room more insulated.
Here's a way to convert your windows into passive solar heater. This passive solar heater is very simple and can be made with items already in your house. If you want to read more about designing and building a solar heater for your home, here is a great article on Mother Earth News.
Heat some rocks. If you have a place outdoors for a cooking fire, you can add large rocks to the fire. Rocks retain heat for a very long time. When you are ready to go to bed, move the rocks into a cast iron Dutch oven. VERY CAREFULLY take this into the room that you are heating. The stones will emit heat for several hours. This is an excellent way to passively heat your room when you're sleeping. With this method, you don't have to be concerned about the potential of a fire or carbon monoxide poisoning during the night.
Serious preppers will already have a step forward on this, but it is not yet too late for most to check over your supplies, or shop for additional emergency items
to ensure that the polar vortex, or any similar biting winter cycles, don't leave you out in the cold.