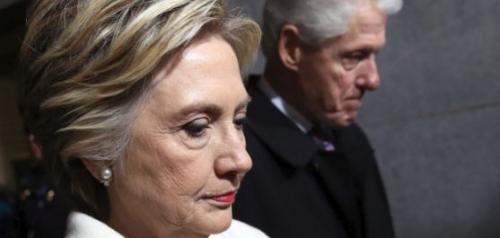 In yet another bombshell surrounding the FBI's investigation into Hillary Clinton's use of a private email server during her time as Secretary of State, Rep. Matt Gaetz (R-FL) has revealed that there is evidence that the upper echelon of the agency planned too, and then gave Clinton special treatment.
Appearing on FNC's "America's Newsroom," Gaetz told the network that a congressional committee currently has email evidence that Clinton supporter and FBI Deputy Director Andrew McCabe had indicated that Clinton was going to get an "HQ special" which apparently meant she going to receive special treatment in an investigation that was actually carried out by agents who supported her for president.
Gaetz also noted his belief that there was an extreme pro-Hillary Clinton bias running through the agency which benefited Clinton greatly.
"The Judiciary Committee is engaged in an investigation, particularly as it relates to the handling of the Hillary Clinton email scandal and any potential investigations of the Clinton Foundation and the handling of bribes or other types of improper payments," Gaetz noted.
"I can certainly say that my impression after these interviews is that there was extreme pro-Hillary Clinton bias that benefited her in this investigation and that she received special treatment as a consequence of her candidacy for president. That shouldn't happen. The law should apply equally to all Americans whether they're political candidates or not. And so, we need to institute reforms through the Judiciary Committee for more oversight, for more transparency so that this never happens again."
.@RepMattGaetz: "We have email evidence from Andrew McCabe indicating that @HillaryClinton was going to get a 'HQ Special,' a headquarters special." pic.twitter.com/6IA0zNz1zm

— Fox News (@FoxNews) December 23, 2017
Gaetz went on to explain that standard procedures may not have been followed when Clinton was cleared of any criminal wrongdoing.
Keep in mind the fact that it would be literal insanity to believe that agents who openly supported Hillary Clinton and hated Donald Trump would then actually fairly investigate her.
"Our view is we need to find out if whether or not the procedures were departed from and we have email evidence from Andrew McCabe indicating that Hillary Clinton was going to get an 'HQ Special,' a headquarters special. That meant that the normal processes of the Washington field office weren't followed and he had a special," Gaetz continued.
"And he had a very small group of people that had a pro-Hillary Clinton bias who had a direct role in changing that investigation from one that likely should have been criminal to one where she was able to walk. And so I think that we've gotta ensure that that never happens again,  that the same processes that would apply to any American would also apply to people who were running for president of the United States."
The evidence is simply overwhelming. High-level FBI agents used their political agendas to not only help Hillary Clinton but also to specifically hurt Donald Trump.