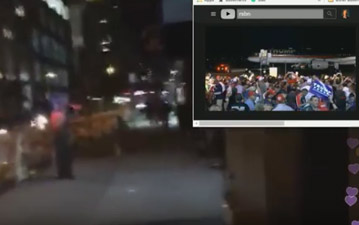 UPDATE: 11:28PM Eastern
Mayor Bill de Blasio says there is no evidence that the explosion is connected to terrorism, though the Manhattan device was similar in nature to the pipe bomb device detonated in Seaside Park, New Jersey earlier Saturday. Police say the Seaside Park device exploded inside of a garbage as runners prepared for a Marine Corp charity event.
It has been reported that a similar device planted inside a garbage can was used in the Manhattan explosion (see below).
New York Mayor Bill de Blasio: There is no evidence of a "terror connection" to NYC blast https://t.co/bGhuXeGo7i https://t.co/KtBnKfDriu

— CNN (@CNN) September 18, 2016
UPDATE: 11:25 PM Eastern
New York Mayor Bill de Blasio said at a press conference Saturday night that the Manhattan explosion was "an intentional act."
Officials say there are no known specific or credible threats to New York at this time.
No suspect have been identified.
ORIGINAL REPORT FOLLOWS
An improvised explosive device reportedly hidden in a trashcan in the Chelsea neighborhood of Manhattan injured at least 26 people Saturday evening.
Police and other emergency services in New York City are responding to an explosion in the Chelsea neighborhood in Manhattan, officials and witnesses say. At least 26 people are known to have been injured. (Bnonews)
Manhattan: Box 615, West 23 St & 6th Ave. U/D; IED Explosion in dumpster, multiple injured, photo via @voicehalf pic.twitter.com/pDKaPeoJmp

— New York City Alerts (@NYCityAlerts) September 18, 2016
The FBI has taken over the investigation following a similar blast that rocked Seaside Park, New Jersey early Saturday:
Brad Cohen, the acting special agent in charge of the FBI's office in Newark, declined to discuss the matter at length during a brief news conference staged Saturday evening.

He said the FBI is working side by side with federal, state and local officials to find out who is behind the device.
Live Streams:
CNN Live:
Images and Footage via DahBoo7: