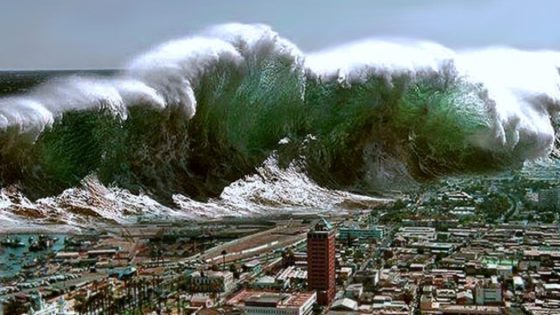 Experts are warning that Australia could be hit by a destructive tsunami "at any time."  As of right now, scientists are saying "so far, we've been lucky." But that luck is bound to run out eventually.
According to The Daily Mail, experts have said it is only a matter of time before Australia is hit by a devastating tsunami. They also said the country's coastal cities have been fortunate not to be struck by a series of destructive waves triggered by meteor impacts or seismic activity as of yet.  Past tsunamis, the most recent in 1491, have crashed over 60 meter-high (almost 197 feet high) cliffs and sent seawater as far inland as the Blue Mountains, 50 kilometers (31 miles) west of Sydney.
Dale Dominey-Howes, co-director of the Australian Tsunami Research Centre at the University of New South Wales said tsunamis pose a very real threat to Australian cities. Such a disastrous and catastrophic event could hit without any warning too.  "If it occurred without warning on a Saturday afternoon in summer the impacts would be catastrophic," Dominey-Howes told the Australian Geographic.  "I suspect it's only a matter of time before we are affected by something damaging."
Despite Australia's coastline being monitored 24-hours-a-day every day for impending tsunamis, which are only recorded once every two years in Australia, scientists still think it's time to brace those living in the coastal areas for the possibility that a tsunami could impact their lives.  Although rare, tsunamis also pose a threat to swimmers as they can bring abnormal waves, tides and dangerous currents.
More recent earthquakes and tsunamis have proven particularly deadly, claiming nearly 750,000 lives over the past 20 years. That is more than other extreme weather events, according to a forthcoming report from the U.N. Office for Disaster Risk Reduction.
The very factors that make coastal cities appealing places to reside also amplify the dangers of a natural disaster.  As more humans move to these beautiful and serene areas, the risk to human life, wealth, and infrastructure will also continue to increase.