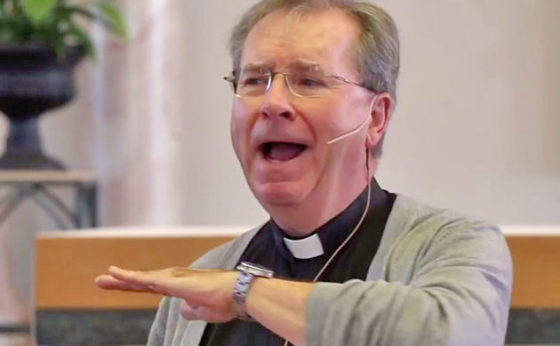 Father Gary Thomas, an exorcist for the Diocese of San Jose, California, is "appalled" that a coven of witches is planning to "hex" president Donald Trump's choice for the Supreme Court, Brett Kavanaugh, on October 20. But Father Thomas has a plan to "counter-attack" the hex being put on Kavanaugh.
The priest will hold two special Masses for the judge – one tomorrow and one on Saturday – when the "hexing" will take place at Catland Books, a metaphysical boutique and occult bookshop in Brooklyn, New York. The hexing ritual will have coffin nails, effigies, and dirt from a graveyard.
Dakota Bracciale, the Brooklyn-based witch who is organizing the hexing event, said the witches see the hex as a radical act of resistance that continues witchcraft's long history as a refuge and weapon for the "oppressed, downtrodden and marginalized." Bracciale is also the witch who organized three hexes against President Donald Trump last year.

"Witchcraft has been used throughout history as a tool and ally for people on the fringes of society who will not ever really get justice through the powers that be," Bracciale told The Huffington Post. "So they have to exact their own justice." Bracciale added that the ritual is meant to be cathartic for alleged victims of sexual assault. Kavanaugh will apparently be the focal point for the hex, but not the only target. The public hex is meant to exact revenge on "all rapists and the patriarchy at large which emboldens, rewards and protects them," a Facebook page dedicated to the event states. –SHTFPlan
The National Catholic Register's Patti Armstrong quoted Thomas as saying: "They [people in the satanic world] are more confident that the general public will be more accepting of the demonic." Armstrong also wrote: Father Thomas noted that throughout history, satanic groups have been secretive, but now they are making it public in the name of freedom of religion. When asked about the witches' hex, Thomas said it's just evil.
"This is a conjuring of evil – not about free speech," he said. "Conjuring up personified evil does not fall under free speech. Satanic cults often commit crimes; they murder and sexually abuse everyone in their cult." Patheos reported that Father Thomas believes whoever helps hex Kavanaugh believes in the power of personified evil.
Armstrong further reported that word is traveling quickly about the hex. Those taking a stand against it are urged to pray and fast for the protection of Kavanaugh.